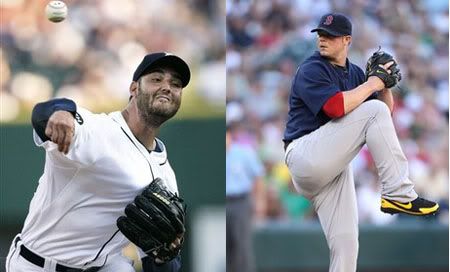 After finishing up a 10-game road trip with a sweep of the Angels, the Boston Red Sox will kick off a seven-game homestand with a three-game set against the Detroit Tigers at Fenway Park.
Tonight's game will start at 7:10 p.m. and will be shown on NESN in the Red Sox television market. The game will be broadcast on Fox Sports Detroit in the Tigers television market. It will also be broadcast on the MLB Network in select markets. If you can't catch the television broadcast, you can always listen to the game on the 2010 Red Sox radio network.
Jon Lester looks to get things going for the Red Sox on the seven-game homestand in his 21st start of the season. In his previous 20 starts, Lester is 11-5 with a 2.92 ERA. He's making his second start of 2010 against the Tigers, taking a no decision back on May 15th when allowed four runs in seven innings. He's made two career starts against the Tigers and is 0-1 with a 5.84 ERA.
Armando Galarraga makes his 12th start of 2010 for Jim Leyland and the Tigers. In his previous 11 starts, he is 3-3 with a 4.43 ERA. His first win of the season came against the Red Sox back on May 16th when he allowed one run over 5 2/3 innings. He's made three career starts against the Red Sox, all in Detroit, and is 1-1 with 4.50 ERA.
Keep reading for lineups, batter/pitcher matchups and pregame links.
Here's the hitters have fared against this evening's starting pitchers in their careers: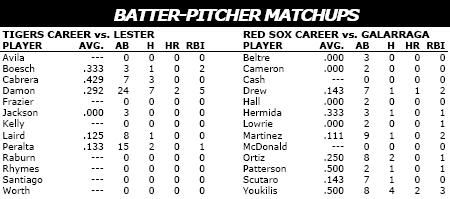 J.D. Drew was in the original lineup but was scratched with hamstring tightness again.
To open the links up in a new tab or window, use Control+click
Slicing up the Red Sox's boring pie [Bill Simmons – ESPN.com]
Lowell: 'There's nothing left for me to do' [Clubhouse Insider]
Damon: Red Sox would've won more if he had stayed [Clubhouse Insider]
Ellsbury on relationship w/teammates: 'Everybody's happy to see me' [Clubhouse Insider]
Lowell on 2010 season: 'It's been terrible' [CSN New England]
Sox Notes: Pedroia, Varitek show 'significant healing' [CSN New England]
Red Sox still mulling reliever options [ESPN Boston]
Mike Lowell not activated yet, asked by Boston Red Sox to be patient [ESPN Boston]
Sox will hold off activating Lowell [Extra Bases]
News from Fenway: Lowell on hold; Ellsbury graduates to Pawtucket rehab [Extra Bases]
Johnny Damon ready for whatever Red Sox fans give him [Extra Bases]
Johnny Damon scratched from lineup [Extra Bases]
Bill Simmons on D&H: Sox lack charisma [Full Count]
Is there hope for the Red Sox bullpen without a deal? [Full Count]
O'Brien on D&H: Sox finally become a 'whole ball club' [Full Count]
Lowell: 'There's nothing left for me to do' [Full Count]
Sox Injury News [Hit and Run with Dan Roche]
Mike Lowell, Red Sox Playing Waiting Game As Trade Deadline Draws Closer [NESN.com]
Report: Red Sox Interested in Lance Berkman [NESN.com]
Red Sox Could Sidestep Trades and Bolster Bullpen From Within [NESN.com]
What Will Red Sox Do Before Saturday's Trade Deadline? [NESN.com]
Report: Red Sox Showed Interest in 40-Year-Old Outfielder Jim Edmonds [NESN.com]
Dustin Pedroia Takes Practice Grounders at Fenway Park [NESN.com]
Ellsbury on track to play for PawSox on Saturday [Projo Sox Blog]
Pedroia, Varitek both show improvement [Projo Sox Blog]
Grueling two-month stretch awaits Red Sox [RedSox.com]
Lowell in limbo as Deadline approaches [RedSox.com]
Photo credits: AP Photo, Getty Images