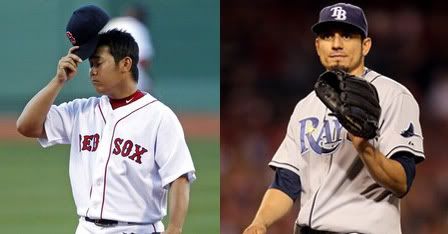 The Boston Red Sox will kickoff their final road trip before the All-Star break tonight when they'll take on the Tampa Bay Rays in the first of three games at Tropicana Field.
Tonight's game will start at 7:10 p.m. and will be shown on NESN in the Red Sox television market. The game will be shown on Sun Sports in the Rays television market. If you can't catch the television broadcast, you can always listen to the game on the 2010 Red Sox radio network.
Daisuke Matsuzaka will look to be more consistent in his 11th start of 2010. In his previous ten starts, Dice-K is 5-3 with a 4.50 ERA. His one and only start against the Rays this season was in his last start where he gave up three runs in six innings to take the loss.  He's made ten career starts against the Rays in his career and is 2-5 with a 4.10 ERA. He's made five career starts at the Trop and is 1-2 with a 3.41 ERA.
Matt Garza makes his 17th start of the season for Joe Maddon and the Rays. In his previous 16 starts, he is 9-5 with a 4.08 ERA. Garza faced off against Dice-K in his last start and picked up the win after allowing three runs in 7+ innings. He's made three starts against the Red Sox total this season and is 2-1 with a 4.05 ERA. He's made 16 starts against the Red Sox in his career and is 8-3 with a 3.43 ERA.
Lineups, batter/pitcher matchups, and links after the jump.
49-33

48-33

1. Marco Scutaro
SS
1. Ben Zobrist
CF
2. Eric Patterson
LF
2. Carl Crawford
LF
3. David Ortiz
DH
3. Evan Longoria
3B
4. Kevin Youkilis
1B
4. Willy Aybar
DH
5. Adrian Beltre
3B
5. Matt Joyce
RF
6. J.D. Drew
RF
6. Sean Rodriguez
2B
7. Bill Hall
2B
7. Carlos Peña
1B
8. Mike Cameron
CF
8. Jason Bartlett
SS
9. Kevin Cash
C
9. John Jason
C
Daisuke Matsuzaka
SP
Matt Garza
SP
And here is the how hitters have fared against tonight's starting pitchers: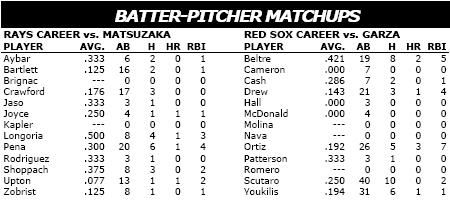 To open the links up in a new tab or window, use Control+click
Youk trails Swisher after day 1 of AL All-Star Final Voting [SOX & Dawgs]
Pregame notes: Buchholz to DL, Doubront here [Clubhouse Insider]
Ortiz would compete in HR Derby; Beltre would decline [Clubhouse Insider]
Sources: Doubront on Tuesday, Sox looking for OF [CSN New England]
Video: Three swings with Nomar [ESPN Boston]
Buchholz to be placed on DL; Doubront goes Tuesday [ESPN Boston]
The price for Ranaudo has been set [Extra Bases]
Pedroia continues his innovative rehab [Extra Bases]
Doubront called up; Buchholz on DL [Extra Bases]
Bad breaks don't dim Pedroia's All-Star shine [Full Count]
Yo' Adrian: 'Unbelievable' Beltre earns All-Star berth [Full Count]
Ortiz would do HR Derby if asked, Beltre not so much [Full Count]
Notes: Doubront to pitch, Buchholz to DL [Full Count]
Red Sox Look to Stay Ahead of Resurgent Rays in AL East With Series at Tropicana Field [NESN.com]
Jonathan Papelbon Misses All-Star Game For First Time Since Rookie Year [NESN.com]
Where Does Terry Francona Rank Among Active Managers? [NESN.com]
Clay Buchholz Placed on Disabled List, Replaced by Felix Doubront [NESN.com]
Doubront to start Tuesday, uneasy about relieving [Projo Sox Blog]
Buchholz DL'ed until after All-Star break [Projo Sox Blog]
Rain could alter plans for Beckett [Projo Sox Blog]
No word yet on Lowell return [Projo Sox Blog]
Youk's an X factor who needs Final Votes [RedSox.com]
Buchholz on DL, will miss All-Star Game [RedSox.com]
Photo credit: Reuters Pictures, Getty Images