After squeaking out a 2-1 win last night, the Boston Red Sox look to take the series in the rubber game of a three-game set with the Texas Rangers at Rangers Ballpark in Arlington, TX.
First pitch is scheduled for 8:05 p.m. and will be broadcast on NESN in the Red Sox television market. If you live in the Rangers television market, you can watch the game on Fox Sports Southwest. If you can't catch the television broadcast, you can always listen to it on the Red Sox radio network.
Josh Beckett looks to avoid the 1st inning blues in his 17 start of 2012. In his previous 16 starts, Beckett is 5-8 with a 4.53 ERA. He's made one start against the Rangers this season taking the loss after allowing three earned runs in seven innings of work back on April 18th. Beckett has made nine career starts against the Rangers and is 3-3 with a 4.88 ERA. Five of those starts have come at Rangers Ballpark where he is 3-1 with a 3.48 ERA.
Harry Caray impersonator Derek Holland will toe the rubber for his 15th start (16 appearances) this season. In his previous 15 appearances (14 starts), Holland is 6-5 with a 4.84 ERA. He was matched up with Beckett on April 18th where he got the win after allowing two runs in seven innings of work. Holland has made four career starts against the Red Sox and is 3-1 with a 2.84 ERA.
Click on the read more button below to see today's lineups, batter/pitcher matchups and links from the day if you're on the home page.
Here are today's lineups:
And here is how the hitters have fared against today's starting pitchers: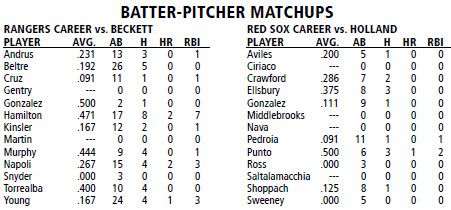 NOTES:
REFRESH OR CHECK BACK OFTEN AS MORE LINKS WILL BE ADDED BEFORE GAMETIME IF/WHEN THEY BECOME AVAILABLE AND WILL BE BOLDED
To open the links up in a new tab or window, use Control+click
Sox explored trading for, flipping Hanley [rob bradford – weei.com]
Pitching coach Bob McClure: Jon Lester's problems began last season [clubhouse insider]
Should the Red Sox be using Carl Crawford as a designated hitter? [clubhouse insider]
Red Sox playing the waiting game as trade deadline approaches [csn new england]
Bald is better for Pedroia [csn new england]
First Pitch: Sox still don't know what to do with Crawford [csn new england]
Bailey: 'Everything felt great' [csn new england]
Assessing Red Sox's playoff chances [espn boston]
Beckett pitches tonight [espn boston]
Source — Boston Red Sox won't trade struggling Jon Lester [espn boston]
Valentine doesn't plan to use Crawford as DH [espn boston]
Lester pleased with extended session [espn boston]
Unlike the Marlins, Red Sox won't start over [extra bases]
Pregame notes from Rangers Ballpark [extra bases]
Mitch Williams on D&C: Red Sox 'good enough' for playoffs [full count]
Carl Crawford Says He's Fine Hitting Seventh Now After Remarks About Terry Francona's Batting Order Choices [nesn.com]
Red Sox Have Reached Pivotal Point in Season With Decisions About Future Looming [nesn.com]
Jacoby Ellsbury, Dustin Pedroia Hottest of Red Sox Hitters as Boston Tries to Take Series Against Rangers [nesn.com]
Ichiro ready to join Red Sox-Yankees rivalry [projo sox blog]
Bailey throws live batting practice, rehab assignment nears [projo sox blog]
Crawford back in left field again, Ciriaco DH'ing [projo sox blog]
Cook ready to renew acquaintances with Yankee Stadium [projo sox blog]
The correlation between walks and wins [projo sox blog]
Beckett aims to deliver series win over Rangers [redsox.com]
Bobby V: Never discussed skipping Lester [alex speier – weei.com]
Follow Ian on Twitter @soxanddawgs. And be sure to like us on Facebook as well.
photo credits: ap photo, reuters pictures