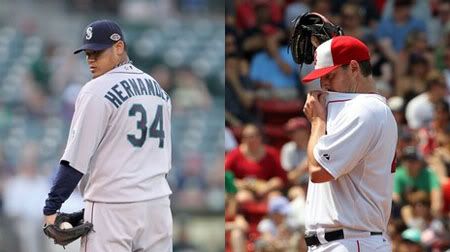 After finishing up a six-game road trip, the Boston Red Sox return home to the friendly confines of Historic Fenway Park for a seven-game stanza. They'll kick it off tonight with the first of a three-game set against the Seattle Mariners.
Tonight's first pitch is scheduled for 7:10 p.m. and the game will be broadcast in the Red Sox television market on NESN. If you live in the Mariners television market, you can watch the game on ROOT Sports. And if you can't catch the television broadcast, you can always listen to the game on the 2011 Red Sox Radio Network.
Shockingly enough, John Lackey will go for his third straight win in as many starts in his 16th start of 2011. In his previous 15 starts, Lackey is 7-8 with a 6.70 ERA. He's made one start against the Mariners in 2011 and took the loss after allowing two runs in six innings back on April 30th. He's made 28 career starts against the Mariners and is 13-10 with a 3.62 ERA. In two career starts against the M's at Fenway, Lackey is 1-1 with a 2.57 ERA (4 ER/14 IP).
King Felix Hernandez looks to end Seattle's 12-game losing streak in his 22nd start of 2011. In his previous 21 starts, King Felix is 8-8 with a 3.26 ERA. He's made one start against the Red Sox in 2011 and picked up a no decision after allowing two runs in seven innings back on May 1st. He's had good success in his career against the Red Sox with a 4-1 record with 2.87 ERA in nine starts. He's made five of those starts at the Fens where he is 3-0 with a 1.49 ERA.
Click on the read more button below to see tonight's lineups, batter/pitcher matchups and links from the day if you're on the home page.
Here are this evening's lineups:
And here is how the hitters have fared against today's starting pitchers:
Check back and/or refresh often as more links will be added if/when they become available before game time.
To open the links up in a new tab or window, use Control+click
Reddick in over Drew in RF [Clubhouse Insider]
Pregame notes: Reddick starts again [CSNNE.com]
SoxProspects.com: New Top 10 list [ESPN Boston]
Francona: Reddick gives us a better chance [ESPN Boston]
Buchholz holds off on bullpen session [ESPN Boston]
New this summer at Fenway Park [Extra Bases]
Trade Talk: The dearth of starters [Extra Bases]
Pregame notes on Reddick's start in right field [Extra Bases]
Pregame updates on Buchholz and Lester [Extra Bases]
Mike Lowell: "I'm still at peace with my decision" [Extra Bases]
Jerry Remy on D&C: 'You have to go for the production' from Josh Reddick [Full Count]
One year later, a world of difference for Red Sox bullpen [Full Count]
Kevin Millar on M&M: Josh Reddick 'deserves the opportunity' [Full Count]
Daniel Bard on The Big Show: I'm not 'locked into any one role' [Full Count]
Red Sox pregame notes: Josh Reddick provides a 'lift' while J.D. Drew sits [Full Count]
Jacoby Ellsbury Outperforming Salary by About $20 Million [NESN.com]
Report: Red Sox, Royals Have Discussions About Jeff Francoeur, Talks in 'Exploratory' Stage [NESN.com]
Clay Buchholz Delays Mound Session, Frustrated by Continued Soreness in Back [NESN.com]
Mike Lowell Returns to Fenway Park, Meets Up With Former Teammates [NESN.com]
Red Sox, Mariners to Test Theory 'Good Pitching Beats Good Hitting' [NESN.com]
The big Friday Nuggetpalooza! [Nuggetpalooza]
A Series Matter: Red Sox-Mariners and Bad Offense [Projo Sox Blog]
Buchholz throws long toss again, bullpen next step [Projo Sox Blog]
Josh Reddick starts over J.D. Drew [Projo Sox Blog]
Well-rested Red Sox Welcome Felix to Fenway [RedSox.com]
Boggs and Fisk needs ballot box support [RedSox.com]
Photo credits: Getty Images, Getty Images