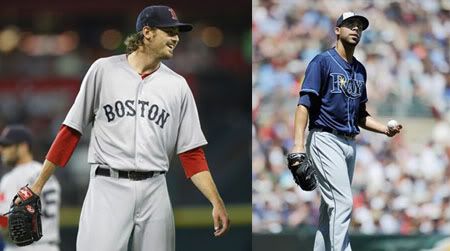 The first place Boston Red Sox return from the All-Star break tonight at Tropicana Field in St. Petersburg, FL. They'll put their six-game winning streak on the line in the first game of a three-game set with the Tampa Bay Rays.
Tonight's first pitch is scheduled for 7:10 p.m. and you can watch the game on NESN in the Red Sox television market. If you live in the Rays television market, you can catch the game on Sun Sports. If you don't live in either market you may be in luck as the MLB Network is also supposed to have coverage of the game. And if you can't catch the television broadcast, you can always listen to the game on the 2011 Red Sox Radio Network.
Andrew Miller makes his fifth start of 2011 for the Red Sox and just his second against an American League squad. In his previous four starts, Miller is 3-0 with a 3.57 ERA. His only career start against the Rays came back in 2009 at Tropicana Field as a member of the Florida Marlins. In that start, he took the loss after allowing five runs in 6.1 innings.
David Price makes his 20th start of the season for Joe Maddon's Rays. In his previous 19 starts, Price is 8-7 with a 3.70 ERA. He's made two starts against the Red Sox in 2011 and is 1-1 with a 3.55 ERA (5 ER/12.2 IP). Price has made seven career starts against the Red Sox and is 4-3 with a 3.43 ERA. Price was scheduled to appear in the All-Star Game but skipped it due to a "turf toe" injury. In his last start, he gave up Derek Jeter's 3000th hit.
Click on the read more button below to see tonight's lineups, batter/pitcher matchups and links from the day if you're on the home page.
Here are this evening's lineups:
And here is how the hitters have fared against tonight's starting pitchers: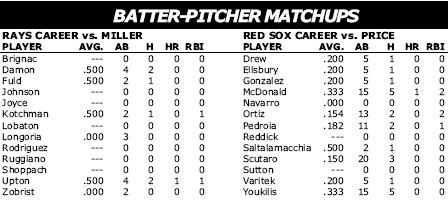 Check back and/or refresh often as more links will be added if/when they become available before game time.
To open the links up in a new tab or window, use Control+click
Pregame notes: Beckett to start Sunday, plus Ortiz appeals [Clubhouse Insider]
Beckett cleared to start Sunday [CSNNE.com]
Notes: Ortiz launches appeal of suspension [CSNNE.com]
Sox open second half tonight in Tampa [ESPN Boston]
Beckett still inline to start Sunday [ESPN Boston]
Crawford eager for rehab start tonight [ESPN Boston]
Francona cites progress for injured players [ESPN Boston]
Dice-K with Sox in Fla; says injury worse than expected [ESPN Boston]
Looking back at the first 55.5 percent of the Red Sox season [Extra Bases]
Josh Beckett all set for Sunday [Extra Bases]
Carl Crawford ready to get going [Extra Bases]
Jerry Remy on D&C: 'Bad timing and late timing' by Orioles sparked brawl [Full Count]
Trade Deadline: Price for Mets' Carlos Beltran might be too high for Red Sox [Full Count]
Andrew Miller explains why drop in velocity shouldn't be a concern [Full Count]
Nomar Garciaparra on M&M: I don't see David Ortiz leaving Red Sox [Full Count]
Report: Sox expressed interest in Kuroda [Full Count]
Joe Maddon on M&M: Rays not intimidated by Sox, Yankees [Full Count]
Carl Crawford ready to go in Pawtucket, but for just six innings [Full Count]
Sea Dogs All-Stars Stay Loose Off the Field With Call of Duty, 'The Hangover' [NESN.com]
Red Sox Secondary Market Tickets Significantly Higher in Second Half of Season [NESN.com]
Vote: Which Red Sox Player Is Under Most Pressure to Bounce Back in Second Half? [NESN.com]
Rays Begin Crucial Homestand Against Red Sox, First of 13 Second-Half Meetings Between Rivals [NESN.com]
Carl Crawford Expects to Play Six Innings Friday in Pawtucket on Rehab Assignment [NESN.com]
Carl Crawford Buys Dinner for Pawtucket Red Sox Before Rehab Game on Friday [NESN.com]
Would Carlos Beltran be superfluous? [Projo Sox Blog]
Epstein talks deadline, Drew [Projo Sox Blog]
Ortiz appealing suspension [Projo Sox blog]
Finally healthy, Doubront ready for call — as a starter or as a reliever [Projo Sox Blog]
Matsuzaka's ligament was completely torn [Projo Sox Blog]
Miller holding his own in Red Sox's rotation [RedSox.com]
Photo credits: Getty Images, Getty Images