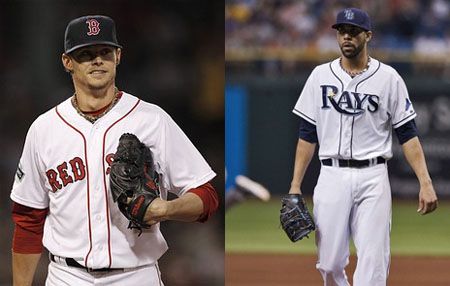 After getting a 3-1 win last night, the Boston Red Sox look to secure a series win tonight in the second game of a three-game set with the Tampa Bay Rays at Tropicana Field in St. Petersburg, FL.
First pitch is scheduled for 7:10 p.m. and will be broadcast on NESN in the Red Sox television market. If you live in the Rays television market, you can watch the game on Sun Sports. And if you don't live in either market you're in luck as well as the MLB Network will have coverage of the game. If you can't catch the television broadcast, you can always listen to it on the Red Sox radio network.
Clay Buchholz returns from the disabled list to make his 15th start of 2012. In his previous 14 starts, Buchholz is 8-2 with a 5.53 ERA. He's made three starts against the Rays this season and is 1-1 with a 4.26 ERA (9 ER/19 IP). He's made 11 career starts against the Rays and is 5-3 with a 2.49 ERA. He's made six starts at the Trop and is 3-2 with a 2.41 ERA.
All-Star David Price gets the ball for the 18th time in 2012. In his previous 17 starts, Price is 11-4 with a 2.82 ERA. He's made two starts against the Red Sox this season and is 0-1 with a 3.60 ERA (4 ER/10 IP). Price has made 12 career starts against the visiting nine and is 6-4 with a 3.22 ERA.
Click on the read more button below to see today's lineups, batter/pitcher matchups and links from the day if you're on the home page.
Here are today's lineups:
And here is how the hitters have fared against today's starting pitchers:
NOTES: As you can see from the lineup, the Red Sox have activated Buchholz from the 15-day disabled list. Mauro Gomez was optioned to Pawtucket to make room for Buchholz on the 25-man roster.
REFRESH OR CHECK BACK OFTEN AS MORE LINKS WILL BE ADDED BEFORE GAMETIME IF/WHEN THEY BECOME AVAILABLE AND WILL BE BOLDED
To open the links up in a new tab or window, use Control+click
Wally the Green Monster heads north [ap]
Gonzalez: Back 'a two- to three-day thing' [rob bradford – weei.com]
Report: Mets considering trade for Shoppach [csn new england]
Here and now [csn new england]
Gonzalez (back) out Saturday, doubtful for Sunday [csn new england]
Sox Notebook: Ortiz, Buchholz, and Ciriaco [csn new england]
Buchholz to come off DL and start vs. Rays [espn boston]
Gonzalez out again with back spasms [espn boston]
Caramba! Ciriaco takes aim on Cobb [espn boston]
Fluky back injury sidelines Gonzalez [extra bases]
AL East strength of schedule heading into the trade deadline [full count]
Will Jacoby Ellsbury or Matt Kemp Have a Bigger Impact on His Team's Lineup After Returning From Injury? [nesn.com]
Red Sox Need to Acknowledge Flaws, Start Pulling in Same Direction for Chance at Better Second Half of Season [nesn.com]
Adrian Gonzalez Sidelined With Back Stiffness, Hopes to Avoid Stint on the Disabled List [nesn.com]
Mauro Gomez Optioned To Pawtucket After Impressive Hitting Stretch That Came With Subpar Defense [nesn.com]
Will the Real Clay Buchholz Please Stand Up? (Video) [nesn.com]
After June blip, Junichi Tazawa rolling again [projo sox blog]
Like Crawford in Boston, ex-Red Sox outfielder Bay still trying to make impact with Mets [projo sox blog]
Gonzalez out Saturday, doubtful for Sunday [projo sox blog]
Lillibridge on first base: "It's never very comfortable" [projo sox blog]
Gomez optioned for Buchholz [projo sox blog]
Buchholz comes off DL to take on Price, Rays [redsox.com]
Follow Ian on Twitter @soxanddawgs. And be sure to like us on Facebook as well.
photo credits: getty images, reueters pictures