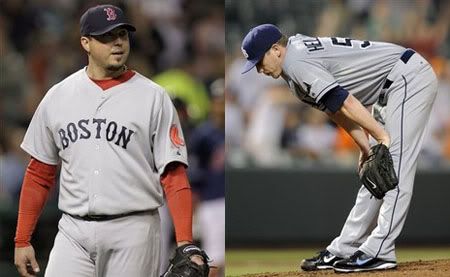 After seeing the Tampa Bay Rays end their nine-game winning streak last night, the Boston Red Sox look to get back into the win column in game two of a three-game set at Tropicana Field.
Tonight's first pitch is scheduled for 7:10 p.m. and you can watch the game on NESN in the Red Sox television market. If you live in the Rays television market, you can catch the game on Sun Sports. And if you can't catch the television broadcast, you can always listen to the game on the 2011 Red Sox Radio Network.
Josh Beckett makes his 14th start of 2011 for Terry Francona. In his previous 13 starts, Beckett is 5-2 with a 2.06 ERA. He has not faced the Rays in 2011 and had no record and a 0.00 ERA (0 ER/7 IP) in one start against them in 2010. He's made 16 career starts against the Rays and is 7-4 with a 3.43 ERA. Six of those starts have come at the Trop where he is 1-3 with a 3.96 ERA.
Rookie Jeremy Hellickson makes his 13th start of the season for the Rays. In his previous 12 starts, Hellickson is 7-4 with a 3.03 ERA. He's made one start against the Red Sox this season picking up the win after allowing two runs in 5.1 innings back on April 11th. In his career against the Red Sox, he's made two appearances (one start) and is 1-0 with a 6.43 ERA. He's never faced the Red Sox at the Trop.
Click on the read more button below to see tonight's lineups, batter/pitcher matchups and links from the overnight and morning if you're on the home page.
Here are tonight's lineups:
And here is how the hitters have fared against tonight's starting pitchers: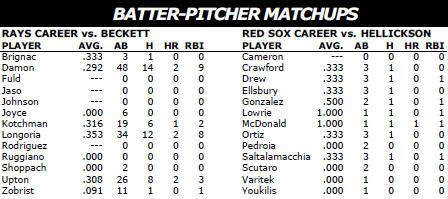 Check back and/or refresh often as more links will be added if/when they become available before game time.
To open the links up in a new tab or window, use Control+click
Source: Andrew Miller to start next week for Red Sox [Clubhouse Insider]
Source: Miller to be promoted; will pitch Monday [CSNNE.com]
Unhappy return coming for Wakefield [CSNNE.com]
David Ortiz Slugging Earlier, More Often This Season Thanks to Balanced Lineup, Confidence [Don Orsillo – NESN.com]
Julien appreciates Francona reaching out [ESPN Boston]
Source: Miller to start Monday against Padres [ESPN Boston]
Analyzing the approach of Adrian Gonzalez [Extra Bases]
Johnny Damon, Hall of Famer? [Extra Bases]
Andrew Miller stays with Red Sox; promotion is pending [Extra Bases]
Jerry Remy on D&C: Stanley Cup Game 7 a reminder of 1978 Red Sox-Yankees playoff [Full Count]
Red Sox prospect health updates: Kalish, Navarro, Middlebrooks, Tazawa [Full Count]
Transcript of Terry Francona on The Big Show: Andrew Miller 'in our plans, that's for sure' [Full Count]
Rajon Rondo, Carl Crawford Among Red Sox, Patriots, Celtics Supporting Bruins on Twitter [NESN.com]
Terry Francona Hops Aboard Bruins Bandwagon, Lends Support to Claude Julien [NESN.com]
Andrew Miller to Remain With Red Sox, Reportedly Will Join Rotation Next Week [NESN.com]
Jerry Remy on Robert Luongo: 'Hopefully, He Stinks [in Game 7]' [NESN.com]
Tale of two players — and two payrolls [Projo Sox Blog]
Making sense of the Andrew Miller situation [Projo Sox Blog]
Francona not looking forward to losing DH in interleague games [Projo Sox Blog]
Bobby Jenks still coming along slowly [Projo Sox Blog]
Red Sox still waiting for Papelbon's appeal [Projo Sox Blog]
Francona OK with proposed realignment [Projo Sox Blog]
Beckett looks to start new winning streak for Boston [RedSox.com]
Summer brings deserved focus on Red Sox [RedSox.com]