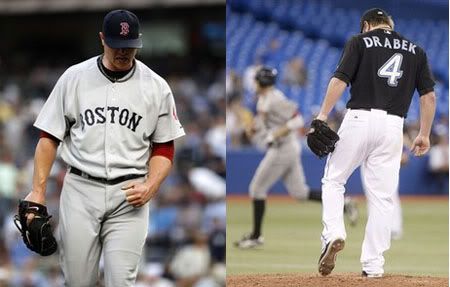 After pounding the Toronto Blue Jays 16-4 on Saturday afternoon, the Boston Red Sox will go for the sweep in the finale of a three-game set this afternoon at Rogers Centre in Toronto, Ontario, Canada.
This afternoon's first pitch is scheduled for 1:07 p.m. and you can watch the game on NESN in the Red Sox television market. If you live in the Blue Jays television market, you can catch the game on SNET. And if you can't catch the television broadcast, you can always listen to the game on the 2011 Red Sox Radio Network.
After picking up a quality start and a win his last time out, Jon Lester looks for his ninth win of 2011 in his 14th start. In his previous 13 starts, Lester is 8-2 with a 3.98 ERA. He's made two starts against the Jays already in 2011 going 1-0 with a 4.76 ERA (6 ER/11.1 IP). He's made 15 career starts against the Jays and is 8-4 with a 3.59 ERA. Nine of those starts have come north of the border at Rogers Centre where he is 4-3 with a 4.07 ERA.
Kyle Drabek looks to stop the bleeding and prevent the sweep this afternoon in his 14th start of the season. In his previous 13 starts, Drabek is 4-4 with a 4.98 ERA. The Blue Jays are 9-4 in his starts though. He's made one career start against the Red Sox and that came back on May 10th. In that start, he picked up a no decision after allowing four runs in five innings in the game that was eventually won by the Jays 7-6.
Click on the read more button below to see today's lineups, batter/pitcher matchups and links from the overnight and morning if you're on the home page.
Here are today's lineups:
And here is how the hitters have fared against today's starting pitchers: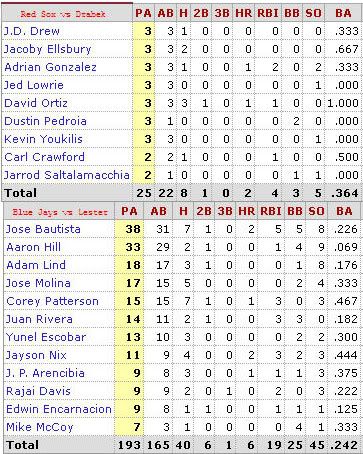 Check back and/or refresh often as more links will be added if/when they become available before game time.
To open the links up in a new tab or window, use Control+click
We've seen this before from Dustin Pedroia [Alex Speier – WEEI.com]
A rousing victory for sleep-deprived Red Sox [Boston Globe]
Breaking out a new strategy [Boston Globe]
On his homer, Varitek wasn't caught napping [Boston Globe]
Cheers from (no) peanut gallery [Boston Globe]
Bombs away, Sox [Boston Herald]
Tek takes mighty hack [Boston Herald]
Something to build on [Boston Herald]
Once busts, now best [Boston Herald]
Red Sox rock Blue Jays pitching, 16-4 [CSNNE.com]
Red Sox bats finally live up to the hype [CSNNE.com]
Notes: Pedroia confident in knee and raking [CSNNE.com]
Rapid reaction: Red Sox 16, Blue Jays 4 [ESPN Boston]
Rough start for Barnes in NCAA tournament [Extra Bases]
Closing Time: Red Sox pound Blue Jays for eighth straight win [Full Count]
Video: Clay Buchholz Shows His Back Is 100 Percent With Dominant Friday Outing [NESN.com]
Clay Buchholz's Seven Solid Innings Versus Blue Jays Earns Him Amica Pitcher of the Week Honors [NESN.com]
Video: John Lackey Continuing to Make Adjustments, Build Arm Strength Upon Return from Disabled List [NESN.com]
David Ortiz Homers Again in Red Sox Rout, Continues to Hearken Back to Days of Dominance [NESN.com]
Video: Terry Francona Encouraged by John Lackey's Performance, Jason Varitek's Production in 16-4 Win Over Blue Jays [NESN.com]
Red Sox First-Round Pick Matt Barnes Struggles, But Shows Promise in UConn's 5-1 Loss to South Carolina [NESN.com]
Video: Peter Gammons Discusses Felix Doubront, Red Sox Prospects with Ben Cherington [NESN.com]
Scutaro starts for Lowrie [Projo Sox Blog]
Hit parade rolls on [Providence Journal]
No easy outs in Red Sox potent lineup [Providence Journal]
Red Sox journal: Rookie hurler Hottovy put to test [Providence Journal]
Francona unsure when Jenks will rejoin 'pen [RedSox.com]
Lester, Red Sox go for third straight sweep [RedSox.com]
For more slices of Red Sox goodness, head over to the Boston Globe, Boston Herald, CSNNE, ESPN Boston, NESN, Providence Journal, RedSox.com and WEEI websites.
And if you must check out the enemy papers, head over to the Toronto Star, Toronto Sun and the Globe and Mail websites.
Photo credits: Reuters Pictures, AP Photo