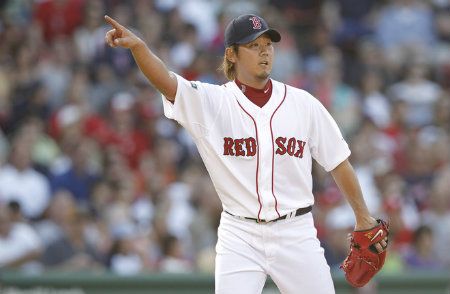 With Daniel Bard down in Triple-A trying to figure things out with his mechanics, the Boston Red Sox turned to Daisuke Matsuzaka to take his place. And with Dice-K returning to the hill for the first time in a year after undergoing Tommy John surgery, no one quite knew what to expect from him.
Would we see the Dice-K who's been dominating on the mound or would we see the one who has struggled? Well after watching him yesterday, I'd say it was a little bit of both.
He came out strong in the 1st inning striking out two of the three batters he faced. Then after giving up a leadoff home run to Adam LaRoche in the 2nd inning, he settled down and retired the next six batters he faced.
The trouble began in the 4th for Matsuzaka.
He walked Bryce Harper then gave up a single to Ryan Zimmerman. After striking out LaRoche, Michael Morse brought in Harper with a ground rule double. Ian Desmond followed that up with a single to bring two more. Dice-K escaped any further damage when Adrian Gonzalez made a great sliding catch in right field on a Danny Espinosa liner and then doubled up Desmond at first.
So was this a bad start for Matsuzaka? Yes and no.
Obviously there are some things for him to work on. But when you look at the fact he walked one and struck out eight, he can build from that as well. And if Bard can't figure things out, the Red Sox will need Matsuzaka to pitch well going forward.
For the second straight day, the Red Sox ran into some good pitching from the Nationals. This time it was from Gio Gonzalez who has struggled against the Red Sox in his career.
The local nine managed just two hits off of Gonzalez through the first six innings and finally got to him in the 7th.
After retiring Kevin Youkilis, Gonzalez walked Will Middlebrooks and that was followed by a Mike Aviles single. Middlebrooks ended up at third on a Harper error. Craig Stammen came in for Gonzalez and walked pinch-hitter Ryan Sweeney. Jarrod Saltalamacchia pinch-hit for Kelly Shoppach and once again delivered in the clutch, this time off of Mike Gonzalez, when he hit a two-run double to cut the Nats lead to 4-2. Mike Gonzalez settled down though striking out Daniel Nava then got Dustin Pedroia to foul out as he continues to struggle since returning to the lineup.
The loss yesterday afternoon dropped the Red Sox below .500. We had all hoped the would stay above going forward once they had gotten above that line. Obviously they've run into some good pitching but they need to put together a nice little run here, especially when they'll lose the DH for the next six games after the game this afternoon.
Click on the read more button below to see today's lineups, batter/pitcher matchups and links from the overnight and day if you're on the home page.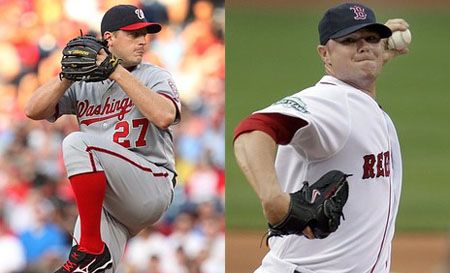 After falling 4-2 yesterday afternoon, the Boston Red Sox look to avoid a sweep of their three-game set this afternoon with the Washington Nationals at Historic Fenway Park.
First pitch is scheduled for 1:35 p.m. and the game will be broadcast on NESN in the Red Sox television market. If you live in the Nationals television market, you can catch the game on MASN. If you can't catch the television broadcast, you can always listen to it on the Red Sox radio network.
Jon Lester will toe the rubber for the 13th time this season this afternoon. In his previous 12 starts, Lester is 3-4 with a 4.64 ERA. He last faced the Nats in 2009 when he got the win after allowing three runs in six innings of work. Overall in his career, he's made two starts against the Nationals and is 2-0 with a 3.00 ERA (4 ER/12 IP). In 18 career interleague starts, Lester is 10-4 with a 2.99 ERA.
Jordan Zimmermann looks to pitch the Nats to a sweep of the Red Sox in his 12th start of 2012. In his previous 11 starts, Zimmermann is 3-5 with a 2.82 ERA. He picked up the win back in 2009 in his only career start against the Red Sox at Nationals Park. In that start, he allowed one run in seven innings of work. H
Here are today's lineups:
And here is how the hitters have fared against today's starting pitchers: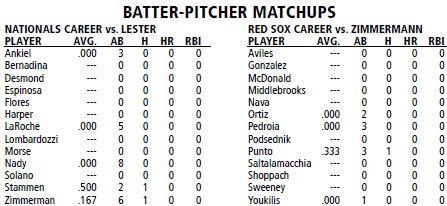 NOTES: Before yesterday's game, the Red Sox activated Ryan Kalish from the 60-day DL and optioned him to Pawtucket. To make room on the 40-man roster for him, the Red Sox moved Jason Repko to the 60-day DL. Rich Hill was placed on the 15-day DL before today's game. Taking his place on the 25-man roster is Mark Melancon who was called up from Triple-A Pawtucket. Daniel Nava was scratched from the lineup and replaced by Darnell McDonald.
REFRESH OR CHECK BACK OFTEN AS MORE LINKS WILL BE ADDED BEFORE GAMETIME IF/WHEN THEY BECOME AVAILABLE AND WILL BE BOLDED
To open the links up in a new tab or window, use Control+click
Sox are powerless to hit back [Boston Globe]
Lefty Gonzalez a tough follow-up act for Nationals [Boston Globe]
Outfielder Byrd is designated for assignment [Boston Globe]
They need Dice-K, and more [Boston Globe]
Daisuke Matsuzaka returns, Dustin Pedroia continues to struggle in Red Sox' loss to Nats [Boston Herald]
Morales just does his job [Boston Herald]
Optimistic yet? No Dice [Boston Herald]
Coach pitches in with 'Craw' [Boston Herald]
Melancon back, Hill goes on DL and schedules visit to Dr. Andrews [Clubhouse Insider]
Nationals stymie Sox in Dice-K's return, 4-2 [CSN New England]
Many positives, but Dice-K regrets walk to Harper [CSN New England]
Sox stretching out Morales [CSN New England]
Pedroia still searching for timing [CSN New England]
Hill (elbow) to DL, Melancon back with Sox [CSN New England]
Hill (elbow) to be examined on Monday [CSN New England]
Youkilis, Aviles get Sunday off vs. Nationals [CSN New England]
Rapid Reaction: Nationals 4, Red Sox 2 [ESPN Boston]
Dice-K's return something to build off [ESPN Boston]
Pedroia: Ankle is OK, hits will come [ESPN Boston]
Morales effective in stretched-out role [ESPN Boston]
Sox recall Melancon, put Hill on DL [ESPN Boston]
Mark Melancon up from AAA; Rich Hill to DL [Extra Bases]
Rich Hill to see Dr. James Andrews in Florida tomorrow [Extra Bases]
Daniel Nava scratched with sore left hand [Extra Bases]
Closing Time: Gio Gonzalez, Nationals spoil Daisuke Matsuzaka's return [Full Count]
Red Sox sign five college seniors from draft, close on deals with three more top picks [Full Count]
Franklin Morales showing his stamina, could be used for starting pitching depth [Full Count]
For Daisuke Matsuzaka, it's a start: 'Nervous' outing offers a 'usable' foundation [Full Count]
Mark Melancon back in Boston after dominating Triple-A [Full Count]
Rich Hill (elbow) to see Dr. James Andrews [Full Count]
Nationals Are Young, But That Doesn't Mean They Can't Play October Baseball [NESN.com]
Daisuke Matsuzaka Returns From Yearlong Hiatus as a Mixed Bag Full of Positives, Negatives [NESN.com]
Dustin Pedroia Shrugs Off Tweaked Ankle Against Nationals, Recent Slump From the Past Week [NESN.com]
Daisuke Matsuzaka Should Be Taking Notes From Gio Gonzalez [NESN.com]
Is Will Middlebrooks or Bryce Harper More Deserving of an All-Star Nod? [NESN.com]
Bobby Valentine Says 'I'm Not a Dinosaur' Despite Accusations From Critics (Video) [NESN.com]
Rich Hill Experiences Discomfort With Surgically Repaired Left Elbow, Heads to the 15-Day Disabled List [NESN.com]
Adrian Gonzalez, Darnell McDonald Lead Hot Red Sox Hitters Looking to Salvage Weekend Series With Nationals [NESN.com]
Melancon called up, Hill to DL [Projo Sox Blog]
Byrd designated for assignment by Red Sox [RedSox.com]
Crawford working on a new throwing motion [RedSox.com]
Dice-K has encouraging start in loss to Nats [RedSox.com]
Lester looks to get on track in finale vs. Nationals [RedSox.com]
A tale of two rotations for Red Sox, Nationals [Alex Speier – WEEI.com]
Follow Ian on Twitter @soxanddawgs. And be sure to like us on Facebook as well.
photo credits: Getty Images, Getty Images, AP Photo