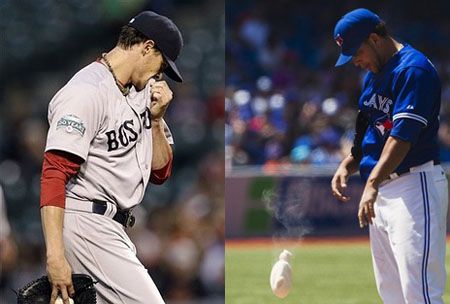 After taking three of four from the Detroit Tigers, the Boston Red Sox head north of the border tonight for the first game of a three-game set with the Toronto Blue Jays at Rogers Centre in Toronto, Ontario, Canada.
First pitch is scheduled for 7:07 p.m. and the game will be broadcast on NESN in the Red Sox television market. If you live in the Blue Jays television market, you can catch the game on SportsNet. And if you don't live in either market, you are in luck as MLB Network will have coverage of the game outside of the Red Sox and Blue Jays television markets. If you can't catch the television broadcast, you can always listen to it on the Red Sox radio network.
Clay Buchholz looks to continue bringing his ERA down in his 11th start of the season. In his previous 10 starts, Buchholz is 4-2 with a 7.19 ERA. He has not faced the Jays in 2012 and was 1-0 with a 3.00 ERA in two starts last year. He's made 12 career appearances (11 starts) against Toronto and is 7-3 with a 2.58 ERA. Seven of those starts have come at the Rogers Centre where he is 5-2 with a 1.62 ERA.
Henderson Alvarez makes his 11th start of 2012 for former Red Sox pitching coach John Farrell. In his previous 10 starts, Alvarez is 3-4 with a 3.56 ERA. He picked up a no decision in his only start of 2012 against the Red Sox after allowing one run in six innings of work back on April 9th. He's made two career starts against the Red Sox and has no record with a 0.75 ERA (1 ER/16 IP).
Click on the read more button below to see today's lineups, batter/pitcher matchups and links from the overnight and day if you're on the home page.
Here are today's lineups:
And here is how the hitters have fared against today's starting pitchers: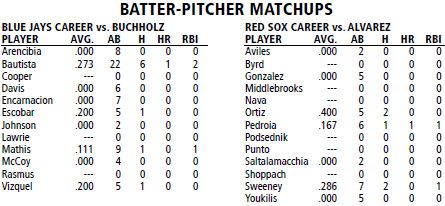 NOTES:

REFRESH OR CHECK BACK OFTEN AS MORE LINKS WILL BE ADDED BEFORE GAMETIME IF/WHEN THEY BECOME AVAILABLE AND WILL BE BOLDED
To open the links up in a new tab or window, use Control+click
Prior joins PawSox as Iglesias hits DL [Rob Bradford – WEEI.com]
May days: How a ragtag bunch put Red Sox back in AL East race [Clubhouse Insider]
No roster moves regarding Pedroia [Clubhouse Insider]
Should Pedroia play this weekend? [CSN New England]
Report: Red Sox tell teams they intend to trade Youkilis [CSN New England]
A Grain of Saltalamacchia [CSN New England]
Youkilis gets scheduled day off [CSN New England]
Podcast: Francona talks Sox on ESPN NY [ESPN Boston]
Video: This week's State of the Nation [ESPN Boston]
Video: Latest on Pedroia's injury [ESPN Boston]
Cherington shoots down Youk report [ESPN Boston]
Bobby V podcast: No DL for Pedroia? [ESPN Boston]
Red Sox have pieces to play with [Extra Bases]
Cubs designate Michael Bowden [Extra Bases]
Ross ready to start playing next week [Extra Bases]
Nuggetpalooza: Some Red Sox stats from the Tigers series [Full Count]
Kevin Millar on M&M: Red Sox will be in first by June's end [Full Count]
Should Major League Baseball Make Stealing Signs Illegal? [NESN.com]
Lefty prospect Britton promoted to Double-A Portland [Projo Sox Blog]
A Series Matter: Red Sox-Blue Jays and the Tight AL East [Projo Sox Blog]
Productive Podsednik could make decision difficult [Projo Sox Blog]
Pedroia takes ground balls, still not on DL [Projo Sox Blog]
Facing Jays, Buchholz seeking another strong start [RedSox.com]
Red Sox power rankings: May [Touching All the Bases]
Follow Ian on Twitter @soxanddawgs. And be sure to like us on Facebook as well.
photo credit: AP Photo, Reuters Pictures