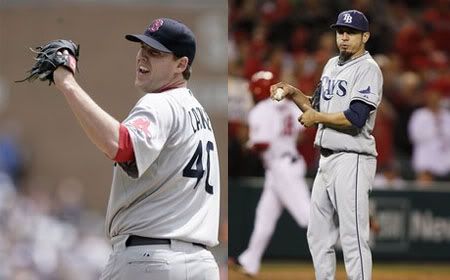 After quality starts and wins from Clay Buchholz and Jon Lester, the Boston Red Sox will look for a three-game sweep of the AL East-leading Tampa Bay Rays tonight at Tropicana Field.
Tonight's game will start at 7:10 p.m. and will be shown on NESN in the Red Sox television market. The game will be shown on Sun Sports in the Rays television market. If you can't catch the television broadcast, you can always listen to the game on the 2010 Red Sox radio network.
John Lackey will look to jump on the quality start train tonight for Terry Francona. In nine starts, Lackey is 4-3 with a 5.07 ERA but has been roughed up his last two times out. He's made one start against the Rays on Marathon Monday and took the loss after allowing eight runs in 3 1/3 innings. He has had good success against the Rays as he is 9-3 with a 3.77 ERA in 13 career starts. He is just 2-2 with a 6.75 ERA in four starts at the Trop.
Matt Garza will look to help Joe Maddon and the Rays avoid the sweep in his 10th start of 2010. In his previous nine starts, he is 5-2 with a 2.79 ERA. He's faced the Red Sox once this season back on April 16th and picked up the win after throwing eight shutout innings. He's made 13 career starts against the Red Sox and is 6-2 with a 2.92 ERA. He is 2-0 with a 2.84 ERA in six starts against the Red Sox at the Trop and the Rays have won all six of those games as well.
Lineups, batter/pitcher matchups, and links after the jump.
26-21

32-14

1. Marco Scutaro
SS
1. Jason Bartlett
SS
2. Dustin Pedroia
2B
2. Carl Crawford
LF
3. David Ortiz
DH
3. Ben Zobrist
RF
4. Kevin Youkilis
1B
4. Evan Longoria
3B
5. Adrian Beltre
3B
5. John Jaso
C
6. Jeremy Hermida
LF
6. Hank Blalock
DH
7. Jason Varitek
C
7. Carlos Peña
C
8. Mike Cameron
CF
8. Sean Rodriguez
CF
9. Darnell McDonald
RF
9. Reed Brignac
2B
John Lackey
SP
Matt Garza
SP
And here is the how hitters have fared against tonight's starting pitchers: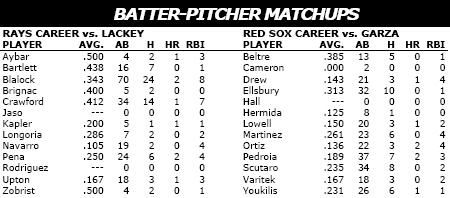 To open the links up in a new tab or window, use Control+click
Ellsbury's injury remains a mystery [Clubhouse Insider]
Big Papi talks hitting, Jose Lima [Clubhouse Insider]
Red Sox Bullpen Ready to Rise Now That Starters Are Finding Rhythm [Don Orsillo – NESN.com]
No Ellsbury, Martinez, Drew [ESPN Boston]
Carl Crawford or Jayson Werth? [Extra Bases]
One of the Rays attacked by a ray [Extra Bases]
Pre-game medical report on the Sox [Extra Bases]
Boxscore Breakdown – One-Hitter At The Trop! [Full Count]
Francona on D&H: 'Patience pays off' with Ortiz [Full Count]
Jacoby Ellsbury Has Setback With Rib Fractures [NESN.com]
New Injuries Create More Patchwork Lineups for Red Sox Manager Terry Francona [NESN.com]
Jacoby Ellsbury Still Sore, Will Be Examined in Boston on Thursday [NESN.com]
Top Quotes By Kevin Millar Include Famous 'Cowboy Up' Moniker [NESN.com]
Delcarmen, bullpen enjoying lighter workload [Projo Sox Blog]
Ortiz back in No. 3 hole, mourning old friend Lima [Projo Sox Blog]
Francona knows about being called back late [Projo Sox Blog]
Ellsbury has no answers on mysterious injury [Projo Sox Blog]
Drew, Martinez nursing injuries [Projo Sox Blog]
Rice to represent Red Sox at Draft [RedSox.com]