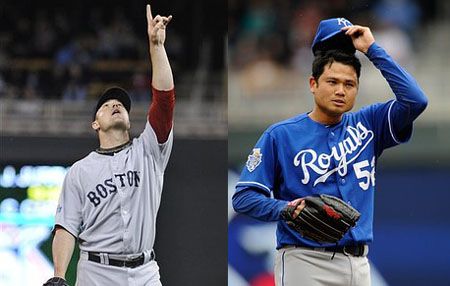 After winning falling last night 6-4, the Boston Red Sox look to take the series tonight in the rubber game of a three-game set against the Kansas City Royals at Kauffman Stadium in Kansas City, MO.
First pitch is scheduled for 8:10 p.m. and the game will be broadcast on NESN in the Red Sox television market. If you live in the Royals television market, you can catch the game on Fox Sports Kansas City. If you can't catch the television broadcast, you can always listen to it on the Red Sox radio network.
Jon Lester looks for his second win of 2012 in his team-high seventh start. In his previous six starts, Lester is 1-2 with a 4.62 ERA. He made two starts against the Royals in 2011 going 1-0 with a 1.59 ERA (2 ER/11 IP). He's had good success against the Royals as he is 5-1 with a 1.30 ERA (7 ER/48.1 IP) in seven career starts. Two of those starts have come at Kauffman Stadium where he is 1-1 with a 4.09 ERA (5 ER/11 IP).
Bruce Chen looks for his first win of 2012 in his seventh start. In his previous six starts, Chen is 0-4 with a 4.98 ERA. He took the loss in his only start against the Red Sox in 2011 when he allowed 10 runs in four innings back on July 27. The well-traveled veteran, including a stop in Boston in 2003, has made 16 career appearances (nine starts) against the Red Sox and is 3-6 with a 5.98 ERA.
Click on the read more button below to see today's lineups, batter/pitcher matchups and links from the day if you're on the home page.
Here are today's lineups:
And here is how the hitters have fared against today's starting pitchers:
REFRESH OR CHECK BACK OFTEN AS MORE LINKS WILL BE ADDED BEFORE GAMETIME IF/WHEN THEY BECOME AVAILABLE AND WILL BE BOLDED
To open the links up in a new tab or window, use Control+click
Red Sox family mourns the loss of public address announcer Carl Beane [RedSox.com]
Bobby V on radio: Looking into rumor that Josh Beckett played golf despite sore lat [Clubhouse Insider]
Valentine: Beckett golfing not the best thing [CSN New England]
R.I.P. Carl Beane [CSN New England]
Bobby V sorting out Beckett golf report [ESPN Boston]
The pitching numbers are hard to believe [Extra Bases]
Report: Beckett played golf after injury [Extra Bases]
Bobby Valentine on Big Show: 'Trying to sort feelings' about Beckett rumor [Full Count]
Daniel Bard is playing out of position [Tony Massarotti – Boston Globe]
Dustin Pedroia's Laser Show Continuing in Series Against Royals [NESN.com]
That's now three wins . . . [Projo Sox Blog]
Report: Beckett played golf on day off before missing start [Projo Sox Blog]
Red Sox mourn the passing of Carl Beane [Projo Sox Blog]
Red Sox aim to continue winning ways on road [RedSox.com]
Report of golf outing sparks Beckett controversy [RedSox.com]
Cherington: Youk plays third when healthy [Alex Speier – WEEI.com]
Follow Ian on Twitter @soxanddawgs. And be sure to like us on Facebook as well.
Photo credits: AP Photo, Getty Images