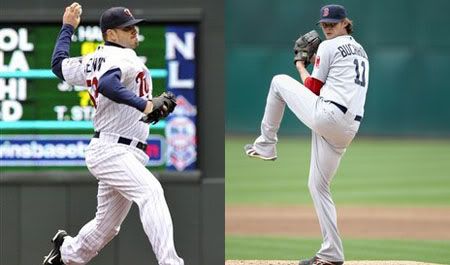 After another tough loss last night, the Boston Red Sox return to the diamond in the second game of a four-game set with the Minnesota Twins at Fenway Park.
First pitch for today's game is at 1:10 p.m. and the game will be nationally televised by FOX to 48% of the country. And if you can't catch the television broadcast, you can always listen to the game on the 2011 Red Sox Radio Network.
After picking up his first quality start in his last outing, Clay Buchholz will look to end his team's three-game losing streak. He's made six starts in 2011 and is 2-3 with a 4.81 ERA. He made one start against the Twins in 2010 (5/19), which is the only time he's faced them at Fenway, and picked up the win after allowing two runs in eight innings. He's made two career starts against the Twins and is 1-1 with a 6.57 ERA.
Brian Duensing makes his sixth start of the season for the Twins and first career start against the Red Sox. In his previous five outings, he is 2-1 with a 2.91 ERA. He made two appearances against the Red Sox in 2010 which are the only two career appearances he's had against them. In those two relief appearances, he had no record with a 3.86 ERA (1 ER/2.1 IP). In his lone Fenway appearance, he didn't allow a run in 1.1 innings.
Click on the read more button below to see today's lineups, batter/pitcher matchups and links from the overnight and the morning if you're on the home page.
Here are this afternoon's lineups:
And here is how the hitters have fared against today's starting pitchers: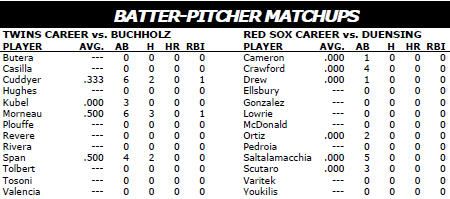 Check back and/or refresh often as more links will be added if/when they become available before game time.
To open the links up in a new tab or window, use Control+click
Something remains amiss with Red Sox [Alex Speier – WEEI.com]
Twins rough up Wakefield, Sox [Boston Globe]
Aceves: comings and goings [Boston Globe]
Still tossing and turning [Boston Globe]
Tim Wakefield, sloppy Red Sox stumble to 3rd straight loss [Boston Herald]
Ejected Terry Francona not touched by an Angel [Boston Herald]
Rough evening for Tim Wakefield [Boston Herald]
Staying put: Despite slump, Dustin Pedroia stays in No. 2 spot [Clubhouse Insider]
Wakefield rocked as Sox fall hard again, 9-2 [CSNNE.com]
Francona upset with West's actions, ejection [CSNNE.com]
Sox notes: Francona shuffles starters [CSNNE.com]
Early notes: Francona shuffles lineup [CSNNE.com]
Rapid reaction: Twins 9, Sox 2 [ESPN Boston]
Francona irked by umpires' actions [ESPN Boston]
Francona hasn't heard from league yet [ESPN Boston]
Lineup looks a little different vs. lefty [ESPN Boston]
It ain't been this bad for 7 years [ESPN Boston]
Closing Time: Twins 9, Red Sox 2 [Full Count]
Francona on umpire Joe West: 'I thought he was out of line' [Full Count]
It's official: Adrian Gonzalez has Monster pop [Full Count]
Why Clay Buchholz' blister might bode well [Full Count]
Crawford on Sports Saturday: No second thoughts about coming to Boston [Full Count]
Mike Cameron Admits Fenway Park Has One of the 'Toughest Outfields' in Major League Baseball [NESN.com]
Terry Francona Says Umpire Joe West 'Out of Line' for Actions Following Ejection [NESN.com]
Dustin Pedroia's Struggles Continue Following First Day Off of 2011 Season [NESN.com]
Joe West's Embarrassing Actions Proof That Major League Baseball Needs to Hold Umpires More Accountable [NESN.com]
Which Red Sox Pitcher Will Throw a No-Hitter Next? [NESN.com]
Daniel Bard's Trio of Shutout Appearances Earns Him Amica Pitcher of the Week Honors [NESN.com]
Will Francona be suspended? [Projo Sox Blog]
Wakefield pounded; Francona tossed [Providence Journal]
Francona: Ejection wasn't any of West's business [Providence Journal]
Some pleasant surprises among Red Sox stats [Providence Journal]
Red Sox Journal: Bad mechanics land Jenks on DL [Providence Journal]
Buchholz seeking return to 2010 form [RedSox.com]
For more slices of Red Sox goodness, head over to the Boston Globe, Boston Herald, CSNNE, ESPN Boston, NESN, Providence Journal, RedSox.com and WEEI websites.
And if you must check out the enemy news, head over to the Minneapolis Star-Tribune and St. Paul Pioneer-Press websites. You can also check out our Bloguin brother, Twins Target.
Photo credits: AP Photo, Getty Images