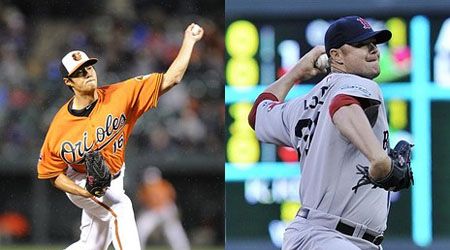 After enjoying the day off on Thursday, the Boston Red Sox will finish up their six game, seven day homestand starting tonight when they welcome the Baltimore Orioles for the first of a three-game set at Historic Fenway Park
First pitch is scheduled for 7:10 p.m. and the game will be broadcast on NESN in the Red Sox television market. If you live in the Orioles television market, you can catch the game on MASN. If you can't catch the television broadcast, you can always listen to it on the Red Sox radio network.
Jon Lester becomes the first Red Sox pitcher to make six starts tonight. In his previous five starts, Lester is 1-2 with a 4.65 ERA. He made two starts against the Orioles in 2011 and was 1-0 with a 2.57 ERA (4 ER/14 IP). Lester has owned the Orioles in his career as he is 14-0 with a 2.36 ERA in 18 starts.
Wei-Yin Chen, the first Taiwanese player in Orioles history, makes his fifth start of the 2012 season for Buck Showalter. In his previous four starts, Chen is 2-0 with a 2.22 ERA (6 ER/24.1 IP). He has not faced the Red Sox in his brief career.
Click on the read more button below to see today's lineups, batter/pitcher matchups and links from the overnight and day if you're on the home page.
Here are today's lineups:
And here is how the hitters have fared against today's starting pitchers: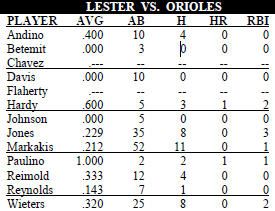 Notes: The Orioles have called up former Red Sox farmhand Luis Exposito.
REFRESH OR CHECK BACK OFTEN AS MORE LINKS WILL BE ADDED BEFORE GAMETIME IF/WHEN THEY BECOME AVAILABLE AND WILL BE BOLDED
To open the links up in a new tab or window, use Control+click
Beckett: Lat was sore prior to last start [Rob Bradford – WEEI.com]
Red Sox villain Robert Andino: 'Just how it was supposed to go down' [Clubhouse Insider]
Bailey: Mariano Rivera 'deserves to go out on his own terms' [Clubhouse Insider]
Josh Beckett: Lat soreness existed before his last start [Clubhouse Insider]
Papelbon: 'Hard to even fathom' Mariano Rivera's career may be over [Clubhouse Insider]
Baltimore's Big Move [CSN New England]
Red Sox minor leaguer receives 50-game suspension [CSN New England]
Box Score Bank: Clay Day [CSN New England]
Red Sox hope Rivera will be back [ESPN Boston]
Notes: Beckett admits lat strain isn't new [ESPN Boston]
Inside the Fenway Park 'sellout' streak [Extra Bases]
Red Sox prospect Price suspended for drug use [Extra Bases]
Matsuzaka's next start delayed [Extra Bases]
Ask Nick: Is something wrong with Gonzalez? [Extra Bases]
Nuggetpalooza: Red Sox, MLB notes and nuggets [Full Count]
Chips off the Sox block [Inside Track]
David Ortiz Remains Red-Hot in May After Posting Career-High Numbers for April [NESN.com]
Will the Orioles Finish This Season Above .500? [NESN.com]
Oil Can Boyd Goes Off on Expletive-Filled Rant, Insists Wade Boggs Is a Bigot [NESN.com]
Daisuke Matsuzaka's Minor League Start Delayed After Feeling Pain In His Neck [NESN.com]
Mariano Rivera Injury Evokes 'Emotional' Response From David Ortiz, Bobby Valentine [NESN.com]
Former PawSox catcher Exposito gets to major leagues with Orioles [Projo Sox Blog]
Valentine on Beckett soreness: "In retrospect, it would have been nice to know that" [Projo Sox Blog]
Matsuzaka lined up to make rehab start at McCoy Stadium on Monday [Projo Sox Blog]
Cook not looking past Saturday start [Projo Sox Blog]
Lester looks to continue dominance of O's [RedSox.com]
Follow Ian on Twitter @soxanddawgs. And be sure to like us on Facebook as well.
Photo credits: Getty Images, AP Photo