Tonight's game has been postponed. The two teams will play a split doubleheader tomorrow. The first game will be at 1:05 p.m. with the second one starting at 7:05 p.m.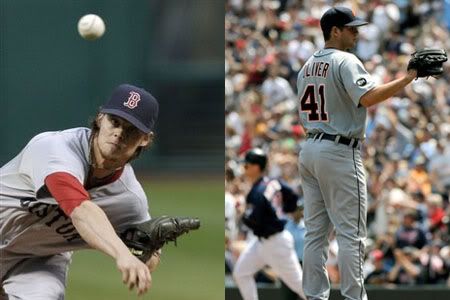 The AL East-leading Boston Red Sox look to keep the momentum going in game three of a four-game set with Detroit Tigers at Comerica Park in the Motor City.
Tonight's game is scheduled to begin at 7:10 p.m. and will be televised in 17% of the country on FOX. And if you can't catch the television broadcast, you can always listen to the game on the 2011 Red Sox Radio Network.
Clay Buchholz looks for his fourth straight quality start in his 11th start of 2011. In his previous 10 starts, he is 4-3 with a 3.30 ERA. This is his second start of the season against the Tigers as he threw seven scoreless innings in receiving a no decision back on 5/18. He's made five career starts against the Tigers and is 1-1 with a 2.23 ERA. Three of those starts have come in the Motor City where he is 1-0 with a 5.23 ERA.
Andrew Oliver gets the ball for Jim Leyland after being called up from Triple-A Toledo. In nine starts with the Mud Hens, he was 4-3 with a 3.31 ERA. This is his first appearance in the big leagues this year after making five starts last season. In those five starts in 2010, he was 0-4 with a 7.36 ERA. This will be his first career appearance and start against the Red Sox.
Click on the read more button below to see today's lineups, batter/pitcher matchups and links from the day if you're on the home page.
Here are tonight's lineups:
And here is how the hitters have fared against this evening's starting pitchers: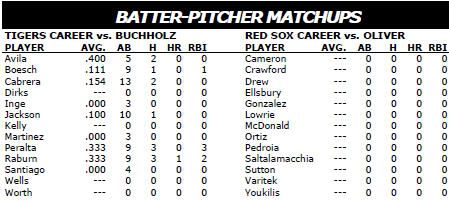 Check back and/or refresh often as more links will be added if/when they become available before game time.
To open the links up in a new tab or window, use Control+click
Daniel Bard's close friend missing in DC area [Clubhouse Insider]
Bard asks for help finding missing friend [CSNNE.com]
Pregame notes: Rough start forgotten, Sox in first [CSNNE.com]
Sox face Tigers, look for fifth straight win, 7 ET [ESPN Boston]
Bard appeals for help in finding missing friend [ESPN Boston]
Sox go worst to first in record time [ESPN Boston]
Kalish close to Pawtucket return [ESPN Boston]
Wakefield gives the Red Sox a boost [Extra Bases]
A renaissance in Detroit? [Extra Bases]
Bard concerned for missing friend [Extra Bases]
From South Portland to the Tigers [Extra Bases]
Red Sox, Yankees Always On Lookout For Lefty Relief [Hartford Courant]
Red Sox Use Braves Field For Fall Classic While Football Takes Over at Fenway In 1915 [NESN.com]
Red Sox Serving Notice to All of Baseball With Dominating Rise to First Place in American League East [NESN.com]
Ben Cherington Gives Inside Look at Work He Does as Red Sox Assistant General Manager [NESN.com]
Search Continues for Missing North Carolina Man, a Friend of Daniel Bard [NESN.com]
Alfredo Aceves' Gem Against Tigers Earns Him Amica Pitcher of the Week Honors [NESN.com]
30 Clubs/30 Nuggets [Nuggetpalooza]
Bard searching for missing friend [Projo Sox Blog]
Ryan Kalish "getting close to Pawtucket" [Projo Sox Blog]
Red Sox prepping for first encounter with Oliver [Projo Sox Blog]
Boston looking to avoid complacency [Projo Sox Blog]
Wakefield, Aceves step up in rotation [Projo Sox Blog]
Buchholz goes for continued mastery of Tigers [RedSox.com]
Friend missing, Bard reaches out for help [RedSox.com]
Photo credits: AP Photo, Getty Images