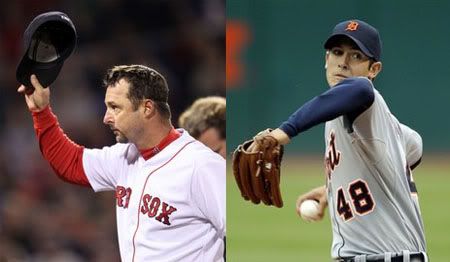 After putting up 14 runs in the consecutive games, the Boston Red Sox look to do it again tonight in game two of a four-game set with the Detroit Tigers at Comerica Park.
Tonight's game is scheduled to begin at 7:05 p.m. and will be televised in the Red Sox television market on NESN. If you live in the Tigers television market, you can catch the game on FOX Sports Detroit. And if you can't catch the television broadcast, you can always listen to the game on the 2011 Red Sox Radio Network.
Tim Wakefield makes his 13th appearance (fourth start) for the white-hot Red Sox. In his previous 12 appearances (three starts), Wake is 1-1 with a 4.50 ERA. He didn't face the Tigers earlier this season and had no record with a 9.00 ERA (2 ER/2 IP) in one appearance against the Tigers in 2010. He's made 36 career appearances (23 starts) against the Tigers in his career and is 16-10 with a 4.25 ERA. In 16 games (11 starts) in the Motor City, Wake is 6-5 with a 4.93 ERA. More specifically, he's made 11 appearances (seven starts) at Comerica Park and is 4-3 with a 4.19 ERA.
Rick Porcello will make his ninth start of 2011 for Jim Leyland's Tigers squad. In his eight previous starts, Porcello is 4-2 with a 3.08 ERA. He didn't face the Red Sox earlier in the season either and the last time he faced them was in 2009 when Youk charged the mound after being hit by Porcello. He's made two career starts against the Red Sox and is 0-1 with a 6.75 ERA (4 ER/5.1 IP).
Click on the read more button below to see today's lineups, batter/pitcher matchups and links from the day if you're on the home page.
Here are tonight's lineups:
And here is how the hitters have fared against this evening's starting pitchers: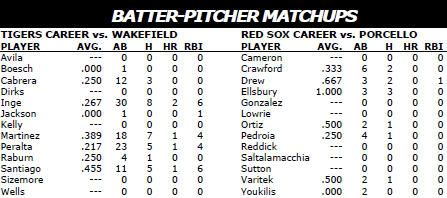 Check back and/or refresh often as more links will be added if/when they become available before game time.
To open the links up in a new tab or window, use Control+click
Depth charge: Red Sox run sustained by unlikely contributors [Alex Speier – WEEI.com]
Pregame notes: Lackey, Drew updates; Crawford is still No. 6 [Clubhouse Insider]
Saltalamacchia finds comfort zone [CSNNE.com]
Pregame notes: Lackey makes progress [CSNNE.com]
Dine with Dan-o (and me), for a cause [ESPN Boston]
Tito sees merit in Crawford staying in 6-hole [ESPN Boston]
'A Genius In Spikes' [Extra Bases]
Father and son share a baseball memory [Extra Bases]
Lackey, Drew feeling much better [Extra Bases]
Now batting sixth, Carl Crawford [Extra Bases]
Gonzalez, Cabrera reunite as superstars [FoxSports.com]
How Many Home Runs Will Jarrod Saltalamacchia Hit This Season? [NESN.com]
Should Carl Crawford Move Up in Red Sox' Batting Order? [NESN.com]
Will Adrian Gonzalez Win the Triple Crown in 2011? [NESN.com]
Healthy Brent Dlugach playing catch-up [Projo Sox Blog]
Buckner wins first game as Brockton Rox manager [Projo Sox Blog]
Lackey in line for Tuesday in Pawtucket [Projo Sox Blog]
Felix Doubront to rejoin PawSox rotation Monday [Projo Sox Blog]
Drew hopes to be ready for weekend [Projo Sox Blog]
Francona, Saltalamacchia see collisions as part of the game [Projo Sox Blog]
Red Sox hope to keep hitting behind Wakefield [RedSox.com]
Photo credits: Getty Images, AP Photo