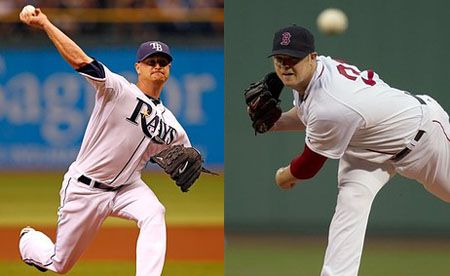 After enjoying a day after 20 straight games, the Boston Red Sox return home to kick off a seven-game homestand at Historic Fenway Park. They'll begin tonight with the first game of a three-game set against the Tampa Bay Rays.
First pitch is scheduled for 7:10 p.m. and the game will be broadcast on NESN in the Red Sox television market. If you live in the Rays television market, you can catch the game on Sun Sports. If you don't live in either the Red Sox or Rays television market, you're in luck as MLB Network will also have coverage of the game. If you can't catch the television broadcast, you can always listen to it on the Red Sox radio network.
Jon Lester toes the mound for the 10th time this season tonight. In his previous nine starts, Lester is 3-3 with a 3.95 ERA. He has not faced the Rays in 2012 and was 1-3 with a 4.32 ERA in four starts against them last year. Lester has made 20 career starts against the Rays and is 10-6 with a 3.91 ERA.
Alex Cobb makes just his second start of the season for the second place Rays. He picked up the win in his first start after allowing two runs in seven innings against the Atlanta Braves. Tonight will mark Cobb's first career start against the Red Sox and at Fenway Park.
Click on the read more button below to see today's lineups, batter/pitcher matchups and links from the day if you're on the home page.
Here are today's lineups:
And here is how the hitters have fared against today's starting pitchers:
REFRESH OR CHECK BACK OFTEN AS MORE LINKS WILL BE ADDED BEFORE GAMETIME IF/WHEN THEY BECOME AVAILABLE AND WILL BE BOLDED
To open the links up in a new tab or window, use Control+click
Day off for Middlebrooks, but just a day [Clubhouse Insider]
Bag Guy Chronicles [CSN New England]
Lester and Pena [CSN New England]
Podsednik grateful for chance with Sox [CSN New England]
Middlebrooks staying at third [CSN New England]
A-Gon may play right at Fenway [CSN New England]
Podcast: Lucchino talks Bobby V [ESPN Boston]
Podcast: Bobby V checks in [ESPN Boston]
Gonzalez back at 1B; Middlebrooks to bench [ESPN Boston]
Pregame notes from Fenway Park [Extra Bases]
The world according to Joe Maddon [Extra Bases]
Kevin Millar on M&M: Have to praise Bobby Valentine's creativity [Full Count]
Buddy Cianci on D&C: Curt Schilling situation 'a comedy of errors' [Full Count]
Bobby Valentine: 'There's a chance' Adrian Gonzalez will see Fenway right field tomorrow night [Full Count]
Daniel Nava Looks to Continue Hot Hitting, Red Sox Hope to Cool B.J. Upton's Booming Bat [NESN.com]
Jarrod Saltalamacchia's Defensive Presence Major Factor in Success of Josh Beckett, Red Sox Pitching (Podcast) [NESN.com]
How Many AL East Teams Will Finish This Year Above .500? [NESN.com]
Roy Oswalt, Ryan Dempster Remain Options to Bolster Red Sox Rotation [NESN.com]
Clay Buchholz Hoping to Reward Red Sox Offense With Better Outings Down the Stretch [NESN.com]
Pimentel getting different results in second crack at Double-A [Projo Sox Blog]
A Series Matter: Red Sox-Rays and Nerds [Projo Sox Blog]
Gonzalez likely to play right field at Fenway Park on Saturday [Projo Sox Blog]
Much-improved bullpens common bond between Rays and Sox [Projo Sox Blog]
Facing Rays, surging Sox look to move past .500 [RedSox.com]
Nick Fury Presents: The Fantastic Adventures of the League of Former Red Sox Managers! [Surviving Grady]
Follow Ian on Twitter @soxanddawgs. And be sure to like us on Facebook as well.
Photo credits: AP Photo, Getty Images