After being swept over the weekend and then enjoying a day off on Monday, the Boston Red Sox return to action tonight when they'll host the Toronto Blue Jays in the first game of a three-game set at Fenway Park.
First pitch is scheduled for 7:10 p.m. The game will be broadcast on NESN in the Red Sox television market. If you live in the Blue Jays television market, you can catch the game on Rogers SportsNet. If you don't live in either market you're in luck as the MLB Network will have coverage of the game (outside of Red Sox and Blue Jays television markets). And if you can't catch the game on television, you can always listen on the 2014 Red Sox Radio Network.
Felix Doubront makes his ninth start of 2014. In his previous eight starts, Doubront is 2-3 with a 4.54 ERA. He made three starts against the Jays in 2013 and was 1-0 with a 3.44 ERA. He's made 12 career appearances (seven starts) against the Jays and is 3-2 with a 4.60 ERA. Seven of those appearances (four starts) have come at the Fens where he is 1-2 with a 4.73 ERA.
J.A. Happ makes his fourth start in his seventh appearance of 2014. In his previous six appearances (three starts), Happ is 2-1 with a 3.57 ERA. He made two starts against the Red Sox in 2013 and was 1-1 with a 2.00 ERA. He's made five career appearances (four starts) against the local nine and is 1-2 with a 4.91 ERA. He's pitched a total of 2/3 of an inning at the Fens retiring both men he faced.
NOTES:
The Red Sox have signed Stephen Drew to a one-year contract worth $14.1 million. He'll receive a prorated amount for the rest of the season.
Here is how the hitters have fared against the starting pitchers during the regular season over their careers.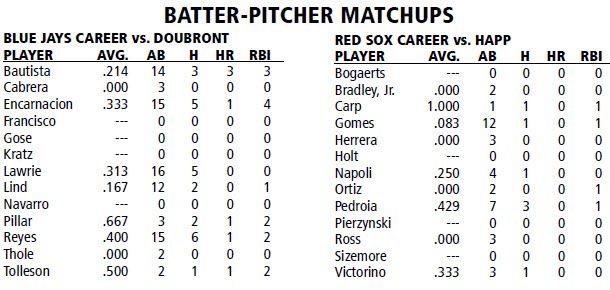 More links (bolded) will be added if/when they become available so please check back often.
To open the links up in a new tab or window, use Control+click
Red Sox agree to one-year deal with Stephen Drew [clubhouse insider]
Farrell on Stephen Drew: 'It'll go a long way to stabilizing the left side of the infield' [clubhouse insider]
Red Sox re-sign Stephen Drew to one-year deal [csn new england]
Getting Drew back in the Red Sox lineup will be complicated [csn new england]
Stories behind Fenway walk-up songs [espn boston]
Boston Red Sox offense needs some kind of boost [espn boston]
Boston Red Sox re-sign shortstop Stephen Drew [espn boston]
Victorino on adding Drew: 'It's a positive thing' [espn boston]
Red Sox-Blue Jays series preview [full count]
John Farrell on Stephen Drew: 'We've added a very good player' [full count]
What Stephen Drew's signing means for Xander Bogaerts and Will Middlebrooks [full count]
Time for Nava, Bradley to swap Sox [pawtucket times]
A Series Matter: Red Sox-Blue Jays and Bouncing Back [providence journal]
Red Sox sign Stephen Drew to play shortstop [providence journal]
Updating the MLB draft order after Drew signing [providence journal]
Addition of Stephen Drew means change for Xander Bogaerts, Will Middlebrooks [providence journal]
Doubront aims for first win at home as Red Sox face Blue Jays [red sox]
The Red Sox offseason, revisited: Was there a better way? [alex speier – weei]
Time is Now for Red Sox — as a Team and Individuals — to Start Playing Like Contenders [touching all the bases]
photo credits: getty images, getty images