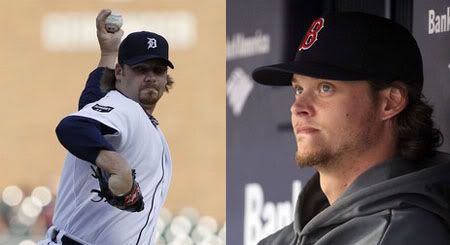 After being rained out last night, the Boston Red Sox continue their seven-game homestand as they welcome the Detroit Tigers to Fenway Park for a two-game set beginning tonight.
Tonight's game is scheduled to begin at 7:10 p.m. (weather permitting) and will be televised on NESN in the Red Sox television market. If you live in the Tigers television market, you can catch the game on FoxSports Detroit. And if you can't catch the television broadcast, you can always listen to the game on the 2011 Red Sox Radio Network.
Here's the weather update from the Red Sox:
The current weather forecast (provided by the Red Sox private weather service, Telvent DTN) in the vicinity of Fenway Park calls for the chance of scattered light rain showers during the late afternoon and early evening hours.
All Fenway Park gates will open as regularly scheduled at 5:40 p.m. with a limited opening on Yawkey Way at 5:10 p.m. The Red Sox hope that tonight's game against the Detroit Tigers, which is scheduled to start at 7:10 p.m., will be played. However, the Red Sox want to alert our fans to the possibility of a delay.
This forecast is of course subject to change as the evening progresses. Additional updates will be provided as necessary.
Clay Buchholz looks for his fourth win in as many starts in his ninth start of 2011. In his eight starts, Buchholz is 4-3 with a 3.94 ERA. He made two starts against the Tigers in 2010 going 1-0 with a 1.26 ERA. (2 ER/14.1 IP). He's faced the Tigers four times in his career and is 1-1 with a 2.84 ERA. Two of those starts have come at the Fens where he is 0-1 with a 1.20 ERA (2 ER/15 IP).
After beginning the season in Jim Leyland's bullpen, Phil Coke will make his eight start (10th appearance) for the Tigers. In his previous nine appearances (seven starts), Coke is 1-5 with a 4.54 ERA. He made three apperances out of the bullpen against the Red Sox last season and was 0-1 with a 9.00 ERA (2 ER/2 IP). He's made 16 career appearances against the Red Sox and is 2-1 with a 3.29 ERA. He's made eight of those bullpen appearances at the Fens where he is 0-1 with a 3.68 ERA (3 ER/7.1 IP).
Click on the read more button below to see today's lineups, batter/pitcher matchups and links from the day if you're on the home page.
Here are tonight's lineups:
And here is how the hitters have fared against tonight's starting pitchers: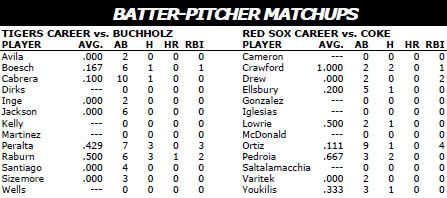 Check back and/or refresh often as more links will be added if/when they become available before game time.
To open the links up in a new tab or window, use Control+click
Empty tank? What history says about Daisuke Matsuzaka's health [Alex Speier – WEEI.com]
Victor Martinez on returning to Fenway: 'I didn't want to go away' [Clubhouse Insider]
Dice K could be out of action until July [Clubhouse Insider]
Painful memories are returning [CSNNE.com]
Sprained elbow sidelines Dice-K for at least a month [CSNNE.com]
Adrian Gonzalez's Swings Some of the Best Boston Has Seen Since Manny Ramirez [Don Orsillo – NESN.com]
Video: Olney on starting pitching market [ESPN Boston]
Papi's hitting fastballs like it's 2007 [ESPN Boston]
Dice-K MRI shows sprained elbow ligament [ESPN Boston]
Video: State of the Nation with Gordon Edes [ESPN Boston]
Sox hope Matsuzaka can avoid Tommy John [ESPN Boston]
Ortiz: Gonzo reminds me of young Papi [ESPN Boston]
Matsuzaka goes on DL with sprained elbow ligament [Extra Bases]
Jerry Remy on D&C: Sox pitchers' injuries 'legit' [Full Count]
Peter Gammons on M&M: Jason Varitek 'really believes' in Alfredo Aceves [Full Count]
Daisuke likely out at least a month [Full Count]
Jim Leyland's comments draw similarities to Red Sox plights [Full Count]
Daisuke: Injury is worse than expected, but surgery not a 'concern' [Full Count]
Victor Martinez: Boston was 'best time of my career' [Full Count]
Terry Francona on The Big Show: John Lackey 'not trying to show anybody up' [Full Count]
Red Sox Statement On Daisuke Matsuzaka [Hartford Courant]
Rays Surprisingly Holding Down First Place in AL East After 1-8 Start to Season [NESN.com]
Daisuke Matsuzaka Shut Down With Sprained UCL, Confident in Avoiding Surgery [NESN.com]
Victor Martinez Calls Time in Boston the 'Best Time I've Had in My Career' [NESN.com]
Peter Gammons Thinks Finding Replacements for Injured Starting Pitchers Could Be Problematic [NESN.com]
Victor Martinez Returns to Fenway Park, Appreciates Time Spent With Red Sox [NESN.com]
A Series Matter: Red Sox-Tigers and Memories of a Division Rival [Projo Sox Blog]
Looking ahead to June, mock drafts rolling out [Projo Sox Blog]
Matsuzaka to miss at least a month, likely more [Projo Sox Blog]
Buchholz looks to cool off red-hot Tigers [RedSox.com]
Cubs at Fenway should be worth the wait [RedSox.com]
Photo credits: Getty Images, Getty Images