It turns out all the Boston Red Sox needed was to return home to Fenway Park. After starting out the season 0-6 on the road, the Red Sox were able to get past the New York Yankees 9-6 in the home opener of the 2011 season.
Manager Terry Francona said it best in postgame interview:
"That's the happiest 1-6 team I've ever seen"
Tito, I can tell you as a fan of the team, I'm pretty happy too.
There was nothing pretty about this game at all from the starting pitcher standpoint. Both starters were atrocious.
John Lackey started this one for the Red Sox and the only cheers he heard all day where when he plunked Alex Rodriguez with a pitch. He just didn't have anything to offer the hitters. Lackey gave up two runs in the first, and a run in each of the following four innings. But somehow, he still managed to pick up the win after allowing six runs on seven hits and two walks with a strikeout in five innings of work.
Oh I know how he picked up the win. The offense had their way with Yankees starter Phil Hughes. He lasted just two innings and allowed six runs on seven hits and two walks.
Besides thanking the offense of Dustin Pedroia (three hits, three RBIs), Adrian Gonzalez (two hits, one RBI), David Ortiz (two hits), J.D. Drew (two hits, two RBIs) and Jarrod Saltalamacchia (two hits, one RBI), he can thank his bullpen.
Alfredo Aceves, freshly called up from Pawtucket, Bobby Jenks, Daniel Bard and Jonathan Papelbon were all outstanding in limiting the Yanks to just one hit (allowed by Aceves) and two walks (Aceves, Jenks) over the final four innings. And all eyes were on Papelbon in the 9th and he showed vintage 2007 form in striking out the first two batters of the 9th.
All in all, it was great to see the Red Sox get a win. Now let's hope they can make it two in-a-row this afternoon.
Click on the read more button below for today's pitchers profiles, lineups and batter/pitcher matchups if you're on the home page.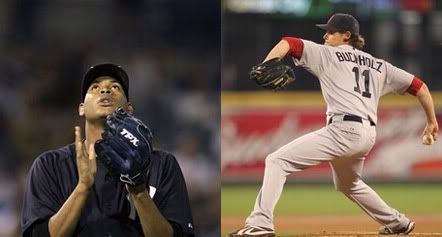 Today, the Red Sox will look for their second straight win as they'll host the Yankees in the game two of a three-game set at Fenway Park.
First pitch for today is scheduled at 1:10 p.m and the game will be broadcast to most of the country on FOX. If you can't catch the television broadcast, you can always listen to the game on the 2011 Red Sox Radio Network.
Clay Buchholz looks for just the second quality start by a Red Sox starter this season in his second outing. He took a loss against the Rangers his first time out when he allowed four runs over 6 1/3 innings. Buchholz was 1-1 with a 5.84 ERA against the Yankees in two starts last year. He's made five career starts against the Yankees and is 1-2 with a 5.79 ERA.
Ivan Nova makes his second start of the 2011 season after picking up a win over the Twins in his first start. In that outing, he went six innings and allowed three runs. Nova has made one career appearance at Fenway Park where he took the loss after allowing one run on four hits in 2 1/3 innings last year.
Here's how the hitters have fared against today's starting pitchers: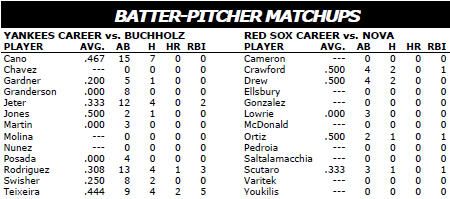 For more slices of Red Sox goodness, head over to the Boston Globe, Boston Herald, CSNNE, ESPN Boston, NESN, Providence Journal and WEEI websites.
Photo credits: AP Photo, Getty Images