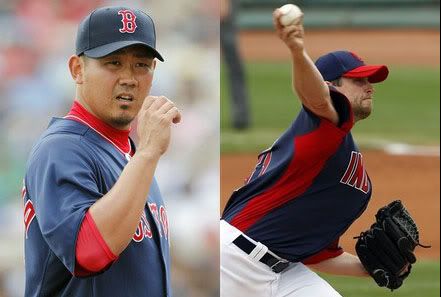 The Boston Red Sox look to end their four-game losing skid to start the 2011 in game two of a three-game set with the Cleveland Indians at Progressive Field in Cleveland, OH.
Tonight's first pitch is scheduled for 7:05 p.m. and the game will be broadcast on NESN Plus in the Red Sox television market. If you live in the Indians television market, you can catch the game on STO. If you can't catch the television broadcast, you can always listen to the game on the 2011 Red Sox Radio Network.
Daisuke Matsuzaka looks to cut the line down at the Tobin Bridge as the Red Sox search for their first win in 2011. He made 25 starts in 2010 and was 9-6 with a 4.69 ERA. He made two starts against the Indians in 2010 and was 2-0 with a 0.56 ERA (1 ER/16 IP). Overall in his career, he's made five starts against the Indians and is 4-1 with a 2.34 ERA. He's made two career starts at Progressive Field and is 2-0 with a 0.00 ERA (0 ER/16 IP).
Mitch Talbot will try to add more Red Sox fans to the line at the Tobin Bridge in his first start of 2011. In his rookie campaign during 2010, he made 28 starts and was 10-13 with a 4.41 ERA. He's made two career appearances (one start) against the Red Sox in his career and is 0-0 with a 7.71 ERA (6 ER/7 IP).
Click the read more button below for the lineups, batter/pitcher matchups and pregame links and if you're on the home page.
Here's how the hitters have fared against tonight's starting pitchers: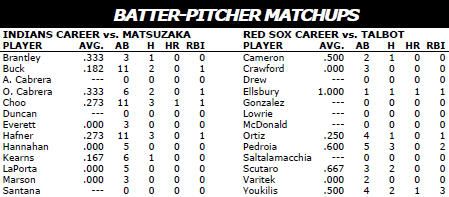 Refresh often or check back as more links will be added if/when they become available before game time.
To open the links up in a new tab or window, use Control+click
College hockey, football at Fenway? [CSNNE.com]
Francona: Important to keep perspective [CSNNE.com]
April bummer nothing new — remember '10? [ESPN Boston]
Some surprising numbers in the AL East [ESPN Boston]
Red Sox turn to Dice-K tonight to stop skid [ESPN Boston]
Terry Francona: No panic here [ESPN Boston]
Tito: 'Don't think we're going to pack it in' [ESPN Boston]
Fearless prediction: Sox win tonight [Extra Bases]
The annual Jimmy Fund Rally Against Cancer is this Friday [Extra Bases]
Mayor Menino checks out the latest improvements at Fenway Park [Extra Bases]
Wagner clears waivers [Extra Bases]
Pregame notes from Cleveland [Extra Bases]
Practicality, thy name is Terry Francona [Extra Bases]
Meet the man who was supposed to get Indians fans fired up last night [Full Count]
Jerry Remy on D&C: Carl Crawford will eventually settle into 3 spot [Full Count]
Nuggetpalooza: Beckett Analysis and More! [Full Count]
Peter Gammons on M&M: Some red flags with Yankees reliever Rafael Soriano [Full Count]
Terry Francona on Big Show: Red Sox should be concerned, not panicked [Full Count]
Red Sox' 0-4 Start Discouraging, But Don't Call Off Championship Parade Just Yet [NESN.com]
Reports: Mayor Thomas Menino Approves Sale of Liquor at Fenway Park [NESN.com]
Former Red Sox Top Pitching Prospect Craig Hansen Released by Pittsburgh Pirates [NESN.com]
Fenway Sports Group and LRMR Marketing & Branding Announce Strategic Business Partnership [NESN.com]
LeBron James Makes Smart Move Taking His Career to Next Level With Fenway Sports Group [NESN.com]
Fenway Park's Latest Improvements Bring Modern Amenities to Boston's Historic Landmark [NESN.com]
Dice-K is now the "stopper?" [Projo Sox Blog]
Matsuzaka extends "Strikeouts for Kids" initiative [Projo Sox Blog]
Terry Francona still seeking consistency [Projo Sox Blog]
Red Sox bullpen an early bright spot [Projo Sox Blog]
Jason Varitek gets first start of the season [Projo Sox Blog]
Struggling Red Sox turn to Dice-K to snap skid [RedSox.com]
Pedroia still the engine driving Red Sox [RedSox.com]
Fenway's offseason improvements unveiled [RedSox.com]
Panic is a specialty in Red Sox Nation [RedSox.com]
Albers off to solid start with Red Sox [RedSox.com]
LeBron James in Deal With Fenway Sports [Wall Street Journal]
Photo credits: Reuters Pictures, AP Photo