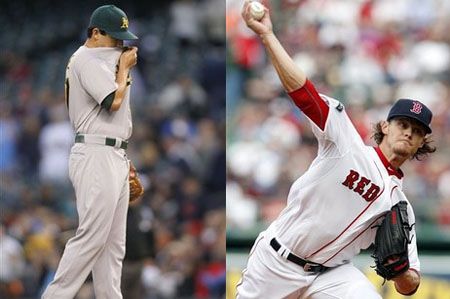 After taking three-of-four games on the south side of the Windy City, the Boston Red Sox return home to the friendly confines of Historic Fenway Park for a six-game, seven-day homestand. Tonight they'll kick it off it with the first of three games against the Oakland A's.
First pitch is scheduled for 7:10 p.m. and the game will be broadcast on NESN in the Red Sox television market. If you live in the A's television market, you can catch the game on Comcast SportsNet California. If you can't catch the television broadcast, you can always listen to it on the Red Sox radio network.
Clay Buchholz looks to figure things out in his fifth start of 2012. In his previous four starts, Buchholz is 2-1 with an 8.87 ERA. He made two starts against the A's in 2011 and was 1-0 with a 5.40 ERA (6 ER/10 IP). In his career, he's made five career starts against the Athletics and is 1-2 with a 7.84 ERA (18 ER/20.2 IP).
Tommy Milone is also making his fifth start of the 2012 season. In his previous four starts, Milone is 3-1 with a 2.00 ERA. He has not faced the Red Sox in his career.
Click on the read more button below to see today's lineups, batter/pitcher matchups and links from the overnight and day if you're on the home page.
Here are today's lineups:
And here is how the hitters have fared against today's starting pitchers:
Notes: Kevin Youkilis was scratched from the Red Sox lineup again. He was replaced by Punto.
REFRESH OR CHECK BACK OFTEN AS MORE LINKS WILL BE ADDED BEFORE GAMETIME IF/WHEN THEY BECOME AVAILABLE AND WILL BE BOLDED
To open the links up in a new tab or window, use Control+click
Note: Since I didn't get to do the links this morning with my father in town and wanting to do stuff in the garden, I've added the overnight links as well.
Sox not disheartened after dropping road finale [Boston Globe]
Next test: Don't get tripped up at home [Boston Globe]
Counting on these pitchers [Boston Globe]
Even after losing, Red Sox on upswing [Boston Herald]
Sox start to feel good after successful trip to Midwest [Boston Herald]
Kevin Youkilis chills out with stiff back [Boston Herald]
Jacoby Ellsbury builds toward return [Boston Herald]
Appreciating the uniqueness of David Ortiz [Rob Bradford – WEEI.com]
The Aaron Cook decision grows trickier — if here, he'll pitch in relief [Clubhouse Insider]
Red Sox shut down by Floyd, White Sox [CSN New England]
Beckett's rough first inning dooms Red Sox [CSN New England]
Red Sox get it done on road trip [CSN New England]
Matsuzaka to make next start in Triple-A [CSN New England]
'He's been a train wreck' [CSN New England]
Clay and the A's [CSN New England]
Valentine: Buchholz 'hasn't hit his stride yet' [CSN New England]
Decision time for Red Sox on Cook [CSN New England]
Wilson groomed to help 'pen [ESPN Boston]
Youkilis says back won't keep him out [ESPN Boston]
Red Sox jump to 10th in power rankings [ESPN Boston]
Valentine: Cook could be used as reliever [ESPN Boston]
Valentine admits he had no backup plan [Extra Bases]
Kevin Youkilis late scratch from lineup [Extra Bases]
Closing Time: No no-hitter for White Sox, but no win for Red Sox [Full Count]
Josh Beckett's performance punctuated solid trip for the Red Sox starting staff [Full Count]
Despite the performance of G-Flo, Red Sox feel pretty good about themselves [Full Count]
Dave Magadan recalls the day he watched Yoenis Cespedes hit a bunch of home runs [Full Count]
Manager On Matt Barnes: "He'll Be At Fenway In A Year Or Two" [Hartford Courant]
Which Red Sox Minor Leaguer Will Help the Major League Squad Most This Year? [NESN.com]
Josh Beckett Gains More Momentum by Throwing Second Straight Solid Outing [NESN.com]
Red Sox Make the Most of Recent Road Trip, Return to Fenway With Confidence [NESN.com]
Boston Needs Red Sox to 'Come Out Fighting' This Time, With More Than Just On-Field Improvements [NESN.com]
Clay Buchholz May Be Key to Red Sox' Rotation Success and Other Thoughts From the Week in Baseball [NESN.com]
Peter Gammons to Fill in For Jerry Remy on Monday Night [NESN.com]
Ryan Sweeney Ready to Face Old Team, Appreciates Memories From Oakland Days [NESN.com]
Bobby Valentine Could Slot Aaron Cook as Spot Starter With 20 Games in 20 Days [NESN.com]
Kevin Youkilis Scratched From Red Sox Lineup Once Again With Stiff Back [NESN.com]
Bobby V: Cook is a reliever if promoted [Mike Petraglia – WEEI.com]
A Series Matter: Red Sox-A's and the Mendoza Line [Projo Sox Blog]
Barnes called up to Salem [Projo Sox Blog]
Dice K to throw in Pawtucket either Thursday or Friday [Projo Sox Blog]
Sweeney excited to see former teammates [Projo Sox Blog]
Valentine: Plan falling into place [Projo Sox Blog]
How Josh Reddick has upgraded his locker room accoutrements in Oakland [Projo Sox Blog]
Decision time looming for Red Sox and Cook [Projo Sox Blog]
Prospect Barnes' scoreless streak ends at 26 2/3 [RedSox.com]
Streak over, Red Sox return home reinvigorated [RedSox.com]
Buchholz takes the ball in series opener [RedSox.com]
Nine thoughts on Red Sox pitching [Touching All The Bases]
Follow Ian on Twitter @soxanddawgs. And be sure to like us on Facebook as well.