After winning last night, the Boston Red Sox look to do it again in the middle of a three-game set with the Toronto Blue Jays this afternoon at the Rogers Centre in Toronto, Ontario, Canada.
First pitch is scheduled for 1:07 p.m. The game will be broadcast on NESN in the Red Sox television market. If you live in the Blue Jays market, you can catch the game on Rogers SportsNet. And if you can't catch the game on television, you can always listen on the 2014 Red Sox Radio Network.
Clay Buchholz looks for his first win in his fifth start of 2014. In his previous four starts, Buchholz is 0-2 with a 7.71 ERA. He made three starts against the Blue Jays in 2013 and was 1-1 with a 1.71 ERA. He's made 18 career appearances (17 starts) against the Jays and is 9-5 with a 2.44 ERA. 10 of those starts have come at the Rogers Centre where he is 7-2 with a 1.49 ERA.
Brandon Morrow toes the slab for the fifth time in 2014. In his previous four starts, Morrow is 1-1 with a 5.03 ERA. He picked up a no decision in his lone start against the Red Sox in 2013 after allowing three runs in five innings of work. He's made 17 appearances (nine starts) against the visiting nine and is 1-3 with a 7.99 ERA.
NOTES:
Here is how the hitters have fared against the starting pitchers during the regular season over their careers.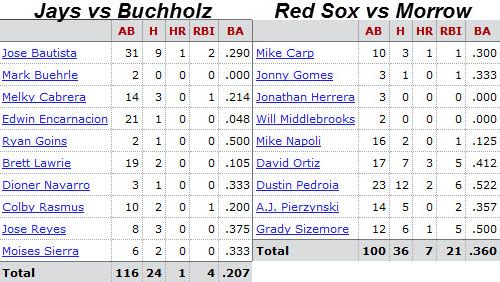 More links will be added if/when they become available so please check back often.
To open the links up in a new tab or window, use Control+click
Why Jake Peavy's importance to Red Sox might have been undersold [rob bradford – weei]
Sizemore hits bump in the road in return [clubhouse insider]
Red Sox-Blue Jays preview: Buchholz looks to rebound [csn new england]
All A.L. East teams have scored less than they've allowed [csn new england]
Daniel Nava's up-and-down path brings him back to Pawtucket Red Sox [espn boston]
Days off for Bogaerts, Napoli [espn boston]
Red Sox notes: John Farrell explains lineup decisions, Grady Sizemore's bump in the road [full count]
Pregame Notes: Red Sox stack lefties, give day off to Mike Napoli, Xander Bogaerts [providence journal]
Buchholz out to bounce back against Blue Jays [red sox]
photo credits: getty images, getty images