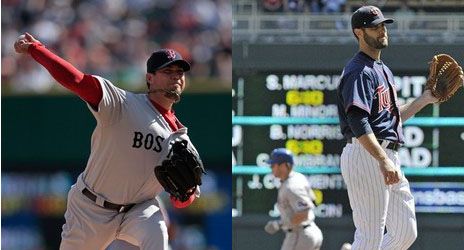 After ending their five game losing streak last night, the Boston Red Sox look to take the series against the Minnesota Twins in game two of a three-game set at Target Field in Minneapolis, MN.
First pitch is scheduled for 8:10 p.m. and the game will be broadcast on NESN in the Red Sox television market. If you live in the Twins television market, you can catch the game on Fox Sports North. And if you don't live in either market, you are in luck as the MLB Network will coverage outside of the Red Sox and Twins television markets. If you can't catch the television broadcast, you can always listen to it on the Red Sox radio network.
Josh Beckett looks to lower his ERA and keep things going good for the Red Sox in his fourth start of 2012. In his previous three starts, Beckett is 1-2 with a 5.03 ERA. In his only start against them in 2011 back on May 9th, he picked up a no decision after seven scoreless innings. In five career starts, Beckett is 3-1 with a 3.00 ERA (11 ER/33 IP). Tonight marks his first start at Target Field. In his only start at the Metrodome in 2009, he picked up the win after allowing one run in seven innings of work.
Nick Blackburn looks to help the struggling Twins in his third start of 2012. In his previous two starts, Blackburn is 0-1 with a 5.56 ERA. He made two starts against the Red Sox in 2011 and had no record with a 0.69 ERA (1 ER/13 IP). He's made six career appearances (four starts) against the Red Sox and is 2-1 with a 3.21 ERA. Three of those starts have come at home where he is 2-0 with a 2.29 ERA (5 ER/19.2 IP).
Click on the read more button below to see today's lineups, batter/pitcher matchups and links from the overnight and day if you're on the home page.
Here are today's lineups:
And here is how the hitters have fared against today's starting pitchers: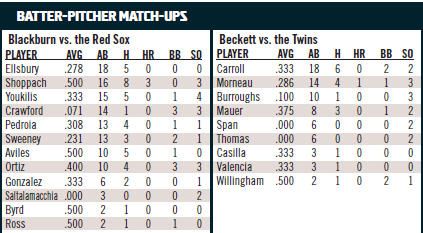 REFRESH OR CHECK BACK OFTEN AS MORE LINKS WILL BE ADDED BEFORE GAMETIME IF/WHEN THEY BECOME AVAILABLE AND WILL BE BOLDED
To open the links up in a new tab or window, use Control+click
Two-strike trouble for Jon Lester, Red Sox [Clubhouse Insider]
Melancon hopes to hit reset button, return to Fenway [Clubhouse Insider]
Bobby V: Red Sox 'still getting all the information' on Carl Crawford's elbow [Clubhouse Insider]
Cook open to relieving, leaving May 1 options open [Clubhouse Insider]
Tying the knot: Youklils weds Brady's sister [CSN New England]
Buchholz still working out the kinks on the mound [CSN New England]
Crawford's elbow remains a "concern" [ESPN Boston]
Ortiz off to best start ever [ESPN Boston]
Will Middlebrooks making his case [Extra Bases]
Podcast: Piecing together the bullpen, outfield [Extra Bases]
Ask Nick: Why not more blame on ownership and management? [Extra Bases]
Matsuzaka moving up to Portland [Extra Bases]
Josh Beckett can't understand the obsession with how hard he throws [Full Count]
Will Daniel Bard Make His Scheduled Start for the Red Sox on Friday? [NESN.com]
Aaron Cook Looking Sharp at Triple-A With Opt-Out Looming, Will Middlebrooks Swinging Hot Bat [NESN.com]
Daniel Bard Likely to Remain in Rotation, But Team Needs Will Ultimately Dictate His Role (Podcast) [NESN.com]
Jerry Remy Returns to NESN Booth on Tuesday After One-Game Absence [NESN.com]
Red Sox Can't Afford to Allow Aaron Cook to Walk Away By Opt-Out Date [NESN.com]
Kevin Youkilis Marries Tom Brady's Sister in Stealth Ceremony on Red Sox' Off Day [NESN.com]
Lester lacking — again [Projo Sox Blog]
Of comfort zones and strikes zones [Projo Sox Blog]
Crawford gets elbow checked in Boston [Projo Sox Blog]
Matsuzaka to make next rehab start at Double-A Portland [Projo Sox Blog]
Melancon: "I felt like I let my teammates down" [Projo Sox Blog]
For Buchholz, changing things up starts with changeup [Projo Sox Blog]
Wilson shifted to pen for possible major-league look [Projo Sox Blog]
Red Sox eye series win vs. Twins behind Beckett [RedSox.com]
Bard more valuable out of bullpen for now [RedSox.com]
Lowe reportedly robbed of Series ring, trophy [RedSox.com]
Red Sox face decision soon on Cook [RedSox.com]
Cook on M&M: 'Done what I've needed to do' [Alex Speier – WEEI.com]
Bobby Valentine didn't create this Red Sox mess, but he can fix it [Sporting News]
Follow Ian on Twitter @soxanddawgs. And be sure to like us on Facebook as well.
Photo credits: Getty Images, AP Photo