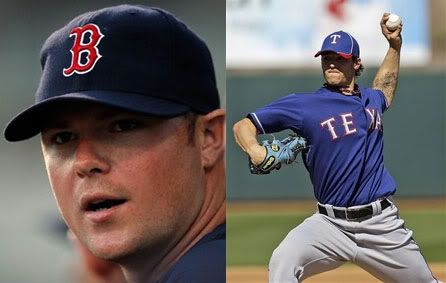 The Boston Red Sox will kickoff the 2011 season this afternoon with a three-game set against the Texas Rangers at Rangers Ballpark in Arlington, TX.
First pitch is scheduled to be thrown at 4:05 p.m. and you can watch the game on NESN in the Red Sox television market. If you live in the Rangers television market, you can watch the game on FOXSports Southwest. And if you don't live in either market, no need to fret as ESPN will be carrying the game as well. If you can't catch the television broadcast, you can always listen to the game on the 2011 Red Sox Radio Network.
Jon Lester will make his first career opening day start for skipper Terry Francona and the Red Sox. Lester made 32 starts in 2010 and was 19-9 with a 3.25 ERA. Lester has made seven career starts against the Rangers and is 3-1 with a 2.94 ERA. He's made two career starts at Rangers Ballpark in Arlington and is 1-0 with a 1.93 ERA. He made two starts against the Rangers in 2010 and was 1-1 with a 1.69 ERA. One of those starts was in Arlington where he picked up the win after throwing eight shutout innings.
C.J. Wilson will also be making his first career opening day start for Ron Washington and the Rangers. He made 33 starts last season and was 15-8 with a 3.35 ERA. He has made 15 career appearances (three starts) against the Red Sox and is 3-1 with a 1.42 ERA and four saves. Wilson made three starts against the Red Sox in 2010 and was 3-0 with a 0.86 ERA.
Click the read more button below for the lineups, batter/pitcher matchups and pregame links and if you're on the home page.
Here's the hitters have fared against today's starting pitchers in their careers:
Refresh often or check back as more links will be added if/when they become available before game time.
To open the links up in a new tab or window, use Control+click
For Darnell McDonald, an Opening Day symbol of arrival [Alex Speier – WEEI.com]
Season Previews: Boston Red Sox [Babes Love Baseball]
Epstein, Red Sox owners react to death of Lou Gorman [Clubhouse Insider]
Francona not sweating the high expectations [Clubhouse Insider]
Salty, Crawford ready for Red Sox opener [Clubhouse Insider]
Ex-Red Sox GM Lou Gorman dies at age 82 [CSNNE.com]
Quick hits: Opening Day [ESPN Boston]
Sun is shining, the captain is on the field [ESPN Boston]
Red Sox open today vs. Rangers [ESPN Boston]
Tito underscores that Salty is clear No. 1 [ESPN Boston]
From the heart: Sox publicist mourns Gorman's death [ESPN Boston]
'Teach your children well…' [ESPN Boston]
Francona and Washington took the same path to becoming managers [Extra Bases]
The Red Sox Top 20 [Extra Bases]
Terrific man, Mr. Gorman [Extra Bases]
Waiting for first pitch [Extra Bases]
Harold Reynolds on D&C: Red Sox have 'whole gamut covered' [Full Count]
Theo Epstein on M&M: 'Unfair to tie our success … to the payroll' [Full Count]
Baseball executives mourn former Sox GM Lou Gorman [Full Count]
Top 10 Reasons Why Opening Day Is Greatest Date on Sports Calendar [NESN.com]
Mike Cameron Gets Start in Right Field Over J.D. Drew With Lefty C.J. Wilson Pitching [NESN.com]
Lou Gorman Leaves Behind Unforgettable Red Sox Legacy [NESN.com]
Dennis Eckersley: 'If [Red Sox] Don't Win the Whole Thing, This Is Going to Be the Most Disappointing Season Ever' [NESN.com]
Peter Gammons Excited to See Speedy Duo of Jacoby Ellsbury, Carl Crawford [NESN.com]
Opening Day Nuggetpalooza: The Players [Nuggetpalooza]
Red Sox Opening Day Nuggetpalooza! [Nuggetpalooza]
Marco Scutaro hopes number change brings luck change {Projo Sox Blog]
Jarrod Saltalamacchia eager for Opening Day start [Projo Sox Blog]
Aceves dominant in five perfect innings for Pawtucket [Projo Sox Blog]
For these Sox, there are the greatest of expectations [Tony Massarotti – Boston Globe]
Photo credits: Getty Images, AP Photo