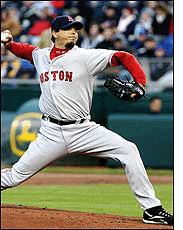 The beloved Red Sox got their first win of the 2007 season on Wednesday night, 7-1 over the Kansas City Royals, behind five solid innings from Josh Beckett and some timely hitting from J.D. Drew and Mike Lowell.
In Beckett's five innings, he gave up 2 hits, 1 earned run, walked 4 and struck out 5. The bullpen was solid as they pitched 4 innings of 1 hit ball with 3 strikeouts.
Drew had two hits and 1 rbi in his 5 at bats while Lowell was 1 for 4 with a double and two rbi's. That double came on the heels of back to back walks by David Ortiz and Manny Ramirez.
Some uncharacteristic defense by Lowell as he made two errors in the third inning. Beckett was able to escape without any damage done. Lowell also committed another error in the 9th inning. Lowell only committed six errors all of last season and has three already. The last time he committed two errors in an inning was back on July 1, 2005.
To see the boxscore from the game, click here.