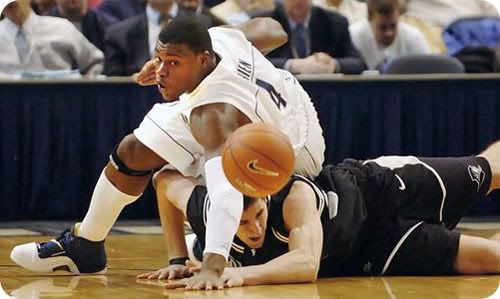 The Providence Friars came out firing on all cylinders in the second half as they advantage of UConn's poor second half shooting to beat the Huskies 77-65 in front of 13,179 at the XL Center in Hartford on Thursday night.
UConn (11-5, 2-3 Big East) shot 24.2% (8-33) in the second half while Providence made 8-of-12 (66.7%) from 3-point land in the second half. The Huskies missed 21 of their first 24 shots in the second half as well. UConn was able to stay close in the second half based on their free throw shooting. They made 13-of-16 (81.3%) to keep themselves around in the game.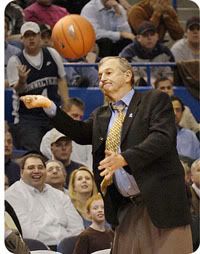 Jim Calhoun was back on the bench for the Huskies after missing the last 1 1/2 games. He tried to stay calm for most of the first half but was pretty pissed off with the UConn's play overall in the second half.
Dwain Williams came off the bench to lead Providence (12-5, 3-2) with 23 points, including 6-of-9 from 3-point land. Brian McKenzie added 20 point and was a perfect 4-for-4 from 3-point land. Geoff McDermott had a double-double for the Friars with 12 points and 11 rebounds. He also had 6 assists and 4 steals. Jeff Xavier chipped in with 11 points for the victors.
The Huskies were led by Jeff Adrien who had double-double of his own with 16 points and 15 rebounds. Adrien's double-double was his 8th of the season. Doug Wiggins came off the bench to score 15 for UConn. A.J. Price added 12 points, all in the first half. Hasheem Thabeet put in 10 points for the Huskies, getting 6 of them (6-7) from the charity stripe.
The first half was a game of runs by both teams. Providence started out the game by taking a 7-2 lead. UConn then went on a 11-0 run before Providence bounced back with a 14-0 run of their own. UConn responded back with a 8-0 run to tie the game up at 21. The teams exchanged baskets for the most part before the half with the Huskies taking a 34-32 lead into the locker room.
The Huskies will look to end their two game losing streak on Sunday when Marquette, who lost by 20 to Louisville tonight, comes to Gampel Pavilion. Tip-off is scheduled for 1 PM and the game will be covered locally on My-TV9 and FSN-NY.
Notes and musings:
The starters were A.J. Price, Jerome Dyson, Stanley Robinson, Jeff Adrien and Hasheem Thabeet.
Weyinmi Efejuku from Providence and Adrien were teammates at Brewster Academy.
Providence's Geoff McDermott played football in high school and was recruited by Rutgers as a quarterback. His running back at New Rochelle High School was Ray Rice from Rutgers. They won a state championship their senior year of high school.
The home team in this series has not won a game since February 2002, a span of seven games.
UConn has lost 4 straight to Providence at the XL Center.
UConn might get some help in the near future in one Nate Miles. He is scheduled to graduate from the Patterson School in Patterson, North Carolina on Sunday. If he gets NCAA Clearinghouse approval, he will enroll in classes and be eligible to play right away.
Providence made was 14-of-24 from 3-point land in the game while UConn was 4-of-19.
Kyle Bailey, a 6'3″ walk-on from New Hampshire, actually played the last two minutes of the game. This is not something we see too often in the game.