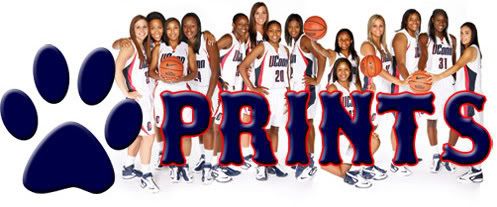 I know this isn't something I normally do where I look at what the player's and coaches have to say about a game but I figured why the heck not. I was able to watch the press conference via CSTV XXL, which you can check out in the left sidebar.
But before I do that I want to look at an article in the Hartford Courant about Mel Thomas.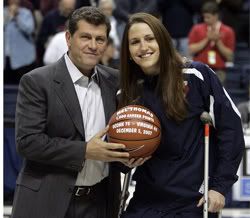 As we all know by now, Thomas is out for the season with a torn ACL. She had the surgery last Friday and was back behind the bench for Saturday's game against Cincinnati. Last night, she was honored before the game for reaching the 1,000 point milestone in her Huskies career. She was presented a basketball commemorating the milestone by Geno Auriemma. Thomas finished her career with 1,098 points and finishes 4th all-time with 244 career 3-pointers made.
"It's been very frustrating for me, particularly because since I came here to play we've been struggling to be on top and we were finally there. We were unbeaten and No. l and now not to be able to play is very frustrating."
"I wasn't expecting that at all," said Thomas of Saturday's rousing standing ovation, likely to be repeated in February's Senior Night ceremony at Gampel. "But I guess it just shows how much the fans love this team. It's amazing how many e-mails and phone calls I've received."

Thomas said she still wants to play basketball and plans to do so overseas in the fall or winter once she heals after a six- to eight-month rehabilitation. But until then, she plans on refocusing her energy on recovering and encouraging her teammates to finish the job.

"After it happened I was joking around with my teammates on the bus," Thomas said. "But once I got home, and laid down in bed, I kind of lost it. It hurt [when she injured it] but it hurt more to know that I would never play for UConn again. That hurt a lot more than anything has ever hurt.

"I wanted this to end with a national title. It still could happen. I just won't be out on the floor with them."
Continue reading after the jump to see the reaction from the players and coaches and how Mel had an impact on Charde Houston in last night's win over North Carolina.
Here are Charde's comments on how Mel was on her case during the game.
"Well for me in the first half I knew that I didn't produce at all and just seeing Renee – just as Tina said out there – trying to do everything by herself and on top of that being on the bench and having Mel [Thomas] with her leg up elevated, yelling at me and to tell me to, 'Go out there and play like you can play.' That really touches your heart and just knowing we lost three starters, that's something that I hold very dear to me. I wanted nothing more than for me to go out and produce in the second half."

"Yeah…I mean Coach is going to be Coach. He can walk. Mel can't, so I wanted to show her that I really care about her, what happened, and the team as a whole."
As you can see, Mel is still having an impact on the way the team plays even if she can't be a leader on the court. That is what great leaders do, they lead however and from where ever they can.
Geno shares his thoughts about the game and how he felt the Huskies played.
"I thought the way the game started how North Carolina played almost flawless basketball in the beginning by making their shots, getting second shots and getting us on our heels right away. I told the kids that this was like a heavy-weight fight, we walked in and right after the ref broke us up to get started, we got hit in the face. It took us a long time to recover from it and every time it got close they would make a play or another shot. When we went in at half time down eleven; I don't think it was really an eleven point game but it was. In the locker room we talked about how we were going to spread the floor out on them and not allow them to start their offense. Lorin and Renee started the second half off great and I think that gave us some confidence and momentum. It was a lot of ups and downs in this game, I enjoyed watching it."
Renee Montgomery spoke about what the Huskies did to not lose the game.
"We refused to lose, no matter what the score was, we had to play hard and we refused to lose. We had to do everything right. We had to make sure they got one shot and that's it. Because in the first half they were getting second shots every time down the court. We knew we had to rebound, we knew we had to get easy buckets in transition and we had to execute. I think everyone came with the mindset that we know what we need to do and we have to get it done."
Maya Moore talked about why they are the best team in the land.
"I think a lot of us are on the same page as far as feeling that we have been tested more than I think most teams do in a year, just as far as defining who we are. With each starter that we lost we had to prove again to ourselves, I think more than anything, that we are still the best team in the country. This was another game just like that."
The best quote of the night however comes from UNC head coach Sylvia Hatchell when she was asked about comparing UConn and Tennessee, both of UNC's losses this season.
"It would be a great game between the two of them. It's a shame they are not playing each other this year."
It's pretty bad for Pat Summitt when even opposing coaches want to see the Huskies and Volunteers play each other.