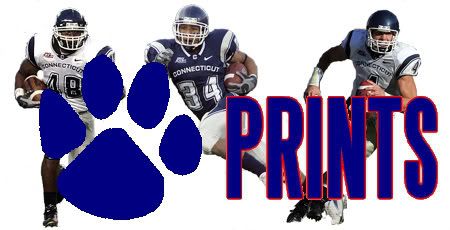 This week

The UConn Huskies will host the Louisville Cardinals on Friday night at 8:00 PM at Rentschler Field
Here are the rosters for the Huskies and the Cardinals.
The Line/Prediction
According to USA Today, Louisville is favored by 3.5 points. The over/under is 62
My prediction is Louisville 34 UConn 31
Tickets
As of the time of this post, there are tickets available.
Tickets to game, if available, may be purchased through Ticketmaster. You can check the availability here.
Getting To The Game
If you are heading to this Friday night's UConn football game against Louisville, please read the following parking advisory from the UConn athletic department.
Fans traveling to Rentschler Field for the UConn-Louisville football game on October 19 are encouraged to get to the stadium early. Heavier than normal traffic is anticipated due to the Cabela's opening on the same date. As a convenience to UConn football fans, the East parking entrance of Rentschler Field on Silver Lane will open at 3:00 p.m. five hours prior to kickoff instead of the normal four hours before kickoff. The Main and Willow Street parking entrances will open at 4:00 p.m. the standard four hours before kickoff.
Here is all the parking info you will need for the game, this link includes directions to Rentschler Field. Here is a Rentschler Field seating chart.
The parking lots will open up 4 hours before kickoff. Here is a list of the tailgating rules at the Rent.
BROADCAST INFORMATION
Television
UConn will play a non-Saturday prime-time game on ESPN or ESPN2 for the eighth time. Each of the three UConn–Louisville games in UConn's FBS tenure have been national telecasts. Sean McDonough, Chris Spielman and Rob Stone have the call on Friday night.
Radio
For the 16th consecutive season, WTIC 1080-AM in Hartford serves as the flagship station for the UConn Radio Network. WTIC is the state's only 50,000 watt signal and can be heard in 23 states and parts of Canada. Veteran UConn announcers Joe D'Ambrosio (play-by-play) and Wayne Norman (color commentary) return to call the action with Kevin Nathan on the sidelines. The UConn pregame show begins 90 minutes prior to kickoff and is hosted by Bob Joyce, while at home games, the UConn Tailgate Show will air two and a half hours prior to the game with Arnold Dean. UConn football games are also broadcast over the internet at WTIC.com. For a full list of stations on the WTIC/UCONN radio network, click here.
For a list of the Louisville area radio affiliates, click here. Louisville football can also be heard on Sirius. This week's game will be on Channel 123.
Last Week
UConn lost to Virginia 17-16. Louisville beat Cincinnati 28-24.
History
This will be the fourth time these two teams have met. UConn is 0-3 against Louisville. Two of those losses have come in the Big East. The first loss to Louisville came back in 2000 when UConn was transitioning from 1-AA to 1-A.
Connections
U

Conn

has one player from the Commonwealth of Kentucky, it's punter, Desi Cullen. He hails from Louisville.

Louisville

running backs coach Tony Alford held the same title at Iowa State in 2005 when

U

Conn

quarterback Tyler Lorenzen played there.

Louisville

WR

 

Chris Vaughn is a native of New Haven and a graduate of St. Thomas More
While an undergraduate at

Syracuse

, ESPN announcer Sean McDonough worked in the football office as a work-study student helping Randy Edsall and others with recruiting matters.
Other News:
UConn is 1-4 against teams from the Commonwealth of Kentucky.
Andre Dixon will start at running back for UConn. Donald Brown II will see significant playing time as well. He missed last week's game with an foot/ankle injury.
Randy Edsall wants the crowd to be as loud as possible for the game as he saw it can do to [his] team at Virginia.
UConn freshman safety Aaron Bagsby is done for the year with a shoulder injury he suffered against Maine. He is hoping to receive a medical redshirt.
Had he gone into the draft last year, Louisville QB Brian Brohm would have been one of the top quarterbacks taken after Brady Quinn and JaMarcus Russell. He decided to stay in school to finish what he had started. I am pretty sure he might be regretting that decision now.
Brohm was named Big East Offensive Player of the Week on Monday for his performance in Louisville's win over Cincinnati. He was 28 of 38 for 350 yards and 3 touchdowns.
Louisville has one of the better kickers in the country, Art Carmody. He owns the NCAA career record for extra points with 237 and counting.
Next Week
UConn hosts #2 South Florida at Rentscheler Field next Saturday (October 27) at 3:30 PM at Rentschler Field.