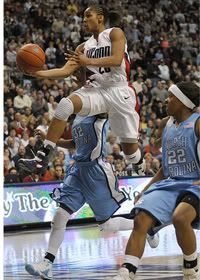 UConn Huskies sophomore Maya Moore fell one vote short in joining Oklahoma's Courtney Paris as unanimous selection on the AP Women's Preseason All-American Team.
Moore garned 44-of-45 votes from the assembled writers across the country and could have been the 7th unanimous selection. The others besides Paris are Chamique Holdsclaw, Diana Taurasi, Alana Beard, Seimone Augustus and Candace Parker.
Joining the pair on the team are Louisville's Angel McCoughtry, Maryland's Kristi Toliver, and Oklahoma State's Andrea Riley. UConn's Renee Montgomery and Tina Charles were among the others receiving votes.
"It's a great honor to be selected as part of that group," Moore said. "Last year was special, but we have bigger things that we still want to accomplish as a team at UConn."
Here is a full look at the team:
Courtney Paris, Oklahoma, 6-4, senior, 18.6 ppg, 15.0 rpg, .561 fg pct (45 votes).
Maya Moore, Connecticut, 6-0, sophomore, 17.8 ppg, 7.6 rpg, .543 fg pct, 73 3-pointers (44)
Angel McCoughtry, Louisville, 6-1, senior, 23.8 ppg, 8.9 rpg, 4.1 spg, 50 3-pointers (39)
Kristi Toliver, Maryland, 5-7, senior, 17.1 ppg, 7.4 apg, .860 ft pct, 78 3-pointers (38)
Andrea Riley, Oklahoma State, 5-5, junior, 23.1 ppg, 4.1 apg, 3.0 spg (19).
Others receiving votes (in alphabetical order): Jayne Appel, Stanford; DeWanna Bonner, Auburn; Tina Charles, Connecticut; Marissa Coleman, Maryland; Briann January, Arizona State; Jantel Lavender, Ohio State; Rashanda McCants, North Carolina; Renee Montgomery, Connecticut; Epiphanny Prince, Rutgers; Takia Starks, Texas A&M; Ashley Walker, California; Morgan Warburton, Utah; Monica Wright, Virginia; Shavonte Zellous, Pittsburgh.