After a really poor four months with the Boston Red Sox in 2010, Manny Delcarmen was sent to the Colorado Rockies for Chris Balcom-Miller. Of course The Pride of Hyde Park wasn't any better with the Rockies and found himself non-tendered when contracts were being issued for 2011.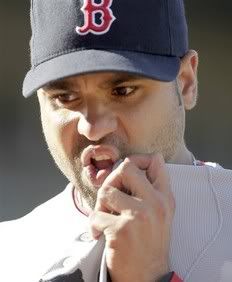 With spring training getting ready to start in just a few days, MDC will find himself heading to spring training once again but this time around in Arizona as he has signed a minor league deal with an invitation to spring training by the Seattle Mariners. Delcarmen can stay under the control of the Mariners until 2012 as an arbitration-eligible player.
MDC had been a fixture in the Red Sox bullpen since the 2006 season and had struggled at times during the last two seasons. During the 2010 season, Delcarmen has made 48 appearances and has a 3-2 record with a 4.70 ERA. In six seasons with the Red Sox, MDC was 11-6 with three saves and a 3.89 ERA.
He made nine appearances for the Rockies where he went 0-2 with a 6.48 ERA in nine games. In his debut for the Rox, he allowed a home run to Jayson Werth and was charged with four runs while recording just one out.
Photo credit: AP Photo
SOX & Dawgs has been nominated for "Best Red Sox Blog" at the New England Sports Blog Awards! Please take a few moments from your day to vote for SOX & Dawgs by heading over to Trufan.com. You are allowed to vote once a day. Thank you for your support not only in the voting but also to make the site what it is today.