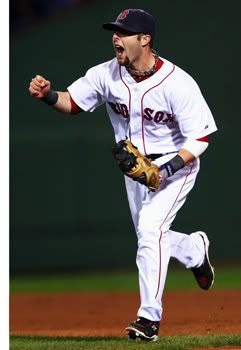 The 2008 Internet Baseball Awards held by Baseball Prospectus are over and the fans have chosen Boston Red Sox second baseman Dustin Pedroia as their MVP. This is the 17th year Baseball Prospectus has held the awards.
Pedroia actually had less first place votes than runner-up Joe Mauer of the Minnesota Twins but was on 200 more ballots than Mauer.
According to Baseball Prospectus:
Pedroia is the second player in IBA voting history to win an MVP the year after winning Rookie of the Year. The first player to do it was also a Red Sox middle infielder, though Nomar Garciaparra played shortstop, not second base, when he accomplished this feat in 1997 and 1998. Three other players have been voted both Internet Rookie of the Year and Internet MVP, though none did it in consecutive years—Derek Jeter, Mike Piazza, and Albert Pujols.
Red Sox first baseman Kevin Youkilis finished 6th in the voting.
Tampa Bay Rays third baseman Evan Longoria won the IBA AL Rookie of the Year, Cleveland Indians pitcher Cliff Lee won the IBA AL Cy Young and Rays skipper Joe Maddon won the IBA Manager of the Year.
The BBWWA yearly awards will start being announced on November 10th.
AL Rookie of the Year: Nov. 10
NL Rookie of the Year: Nov. 10
NL Cy Young Award: Nov. 11
AL Manager of the Year: Nov. 12
NL Manager of the Year: Nov. 12
AL Cy Young Award: Nov. 13
NL Most Valuable Player: Nov. 17
AL Most Valuable Player: Nov. 18