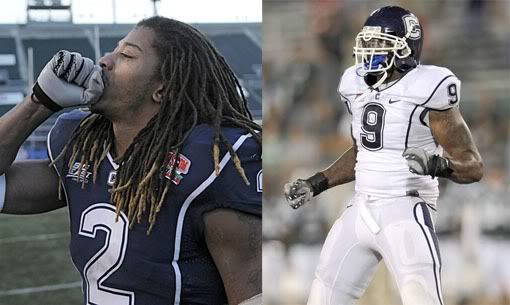 Two members of the 2009 UConn Huskies football team, running back Andre Dixon and defensive end Lindsey Witten, were busy playing football on Saturday in the East-West Shrine Game. Both were part of the East's 13-10 win at the Florida Citrus Bowl.
Witten has one tackle for a loss and two quarterback hurries while Dixon did lead the East squad with 24 yards rushing on seven carries.
I was able to find something from Scouts, Inc. on Dixon's day and another article about Witten from Friday's practice. They are below for your enjoyment.
Here's what Scouts, Inc. had to say about Dixon's day for the East squad.
East RB Andre Dixon (Connecticut) has surprisingly looked hesistant at times today. He's a downhill runner on film and during practices this week so we didn't expect to see the stutter steps at the line of scrimmage today. He has room to improve as a receiver with his hands away from his frame and running crisper routes, but he's athletic enough to do it. He's also a willing pass blocker who will step up and take on blitzing linebackers. Despite today's struggles, he'll be a good value for someone in the middle rounds.
And here's what Todd McShay of Scouts, Inc. had to say about Witten after practice on Friday.
DE Lindsey Witten, Connecticut
Witten had a solid week of practice, but today's good showing leaves a favorable impression in scouts' minds. He showed active hands and good upper-body strength during team run period. He also showed a little bit of a mean streak when he got double-teamed and fought through it nicely. He used his quickness around the edge and his active hands to victimize Rutgers OL Kevin Haslam during one-on-one pass rush drills. There are concerns about his ability to anchor in the run game, but he showed quickness and is tougher than his size (6-foot-4, 251 pounds) might suggest.
Editor's note: Links from Scouts, Inc. are for ESPN Insider