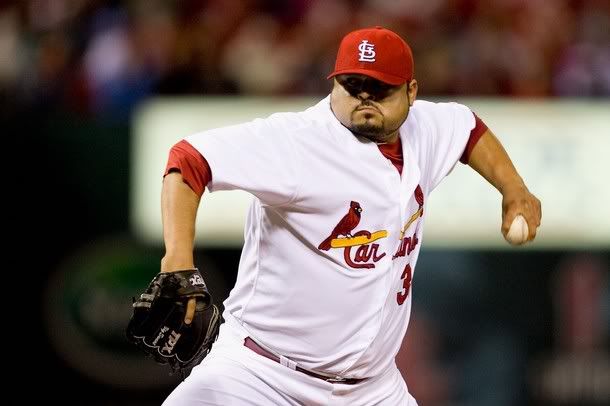 The right-handed portion of the 2011 Boston Red Sox bullpen is pretty much set with Jonathan Papelbon, Daniel Bard, Bobby Jenks, Tim Wakefield and Dan Wheeler. The left-handed portion not so much with Rich Hill, Andrew Miller, Lenny DiNardo, Hideki Okajima, Randy Williams and Felix Doubront. Of those lefties, only Okajima has a major league contract.
Well now we can add Dennys Reyes to the mix as he has signed a minor league deal with the Red Sox. According to Alex Speier of WEEI.com, the deal is worth $900,000 if he makes the 25-man roster and Reyes could earn up to $1.4 million with incentives.
Reyes was 3-1 with a 3.55 ERA in 59 games for the St. Louis Cardinals last season. He was much more effective against righties (.177 BA) then against lefties (.307 BA).
My best guess is that skipper Terry Francona will carry six to seven relievers in the bullpen. So that means that there will be one of those seven players competing for one spot and maybe even two.
Healthy competition is always good and this will be one of the interesting things to follow during spring training this year.
Photo credit: Getty Images
SOX & Dawgs has been nominated for "Best Red Sox Blog" at the New England Sports Blog Awards! Please take a few moments from your day to vote for SOX & Dawgs by heading over to Trufan.com. You are allowed one vote per day! Thank you!