The UConn Huskies women's basketball team headed to Freedom Hall in Louisville, KY on Sunday for a rematch of last year's national championship game against the Louisville Cardinals.
It wasn't that much of a rematch as the Huskies did what they've been doing all year to teams, they completely dominated the Cardinals in an 84-38 win. The Huskies have now won eleven games this season by more than 40 points.
It's the 62nd straight win for the Huskies who improve to 23-0 (10-0 Big East) and they will keep a firm hold on the No. 1 spot when the rankings come out this week. The struggling Cardinals fall to 11-12 (3-7).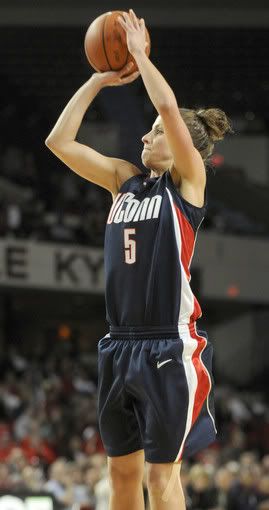 Tina Charles led the way for the Huskies with 20 points and pulled down nine rebounds and had four blocked shots. Maya Moore added 16 points, eight rebounds and five blocked shots. Caroline Doty rounded out the Huskies in double-digits with 11 points while Meghan Gardler had nine points off the bench.
Lorin Dixon led the Huskies with 10 rebounds and four assists to go with her two points.
The Cardinals, who were playing without one of their better players in Desiree' Byrd (ACL), were paced by Keisha Hines' nine points. Monique Reid added six points and 10 rebounds in the loss.
The score was close early on as the Cardinals trailed by just two points at 11-9 with 16:12 to go. Then the Huskies just poured it on as they went on a 22-2 run that started off with a Doty three-pointer.
The run ended when Keisha Hines went on a 5-0 run of her own to make the score 33-16. Doty started a 21-2 run to close the half with a three-pointer as the Huskies held a 54-18 lead at the end of the first half.
The Huskies started off the second half on an 8-0 run and never looked back from there as head coach Geno Auriemma brought in the reserves.
Louisville obviously isn't the same team that they were last year but there was nothing they could have done to stop the hot shooting of the Huskies in the first half (57.1%).
The Huskies are back in action on Wednesday night when they head to Chicago to take on the DePaul Blue Demons in a Big East matchup. Tip is scheduled for 8 p.m. and will be televised locally here in Connecticut on CPTV.
Notes and musings:
UConn Huskies @ Louisville Cardinals 2.7.10 box score (PDF)
The starters were Caroline Doty, Tiffany Hayes, Kalana Greene, Maya Moore and Tina Charles.
The Huskies shot 50.8% (32-of-63) from the floor while the Cardinals shot 21.4% (12-of-56).
UConn had 18 assists on their 32 made baskets.
The Huskies were 11-of-22 (50%) from three-point land while the Cardinals were just 3-of-15 (20%).
UConn was just 9-of-15 (60%) from the free throw line.
The Huskies won the battle of the boards 47-37.
UConn outscored the Cardinals 26-14 in the paint.
The Huskies had 24 points off of 20 Louisville turnovers. The Cardinals had just four points of 11 UConn turnovers.
The rest of the notes are courtesy of the UConn Sports Information Department:
– Today's game marked the first of three over the next nine days that wil see UConn play in the road.
– UConn extends its current winning streak to 62 consecutive games – the second-longest winning streak in NCAA history.
– UConn has won its last 23 "true" road games following today's win at Louisville.
– UConn has won each of its last 131 games against unranked opponents.
– UConn leads the all-time series with Louisville 9-1 and has won each of the last nine meetings overall.
– UConn is 3-0 all-time in road games at Louisville.
– UConn has won each of its last 32 BIG EAST Conference regular season games.
– UConn has won 142 of its last 150 games against BIG EAST opponents in the regular season.
– UConn opens the season a perfect 23-0 for the second straight season and the sixth time since 1994.
– UConn improves to 255-11 when playing as the nation's No. 1 ranked team.
– UConn improves to 194-97 in the month of February and has won each of its last 16 games played during the month.
– UConn is 95-9 in road games since Feb. 1, 2001 – following today's win at Louisville.
– UConn has won 61 consecutive regular season games – following today's win at Louisville.
– UConn has gone 601 consecutive games without suffering back-to-back defeats.
– UConn has won 73 straight BIG EAST Conference games against opponents other than Rutgers.
– UConn improves to 90-18 in national television broadcasts since 2001-02.
– UConn opened the game a perfect 3-of-3 from beyond the 3-point arc.
– All five UConn starters had at least one field goal just over five minutes into the contest.
– UConn held Louisville without a field goal for a span of 6:27 in the first half and outscored the Cardinals 17-0 over the stretch.
– Maya Moore's 16 points marked her seventh straight game with double-figure points, her 22nd this season and her 96th in 100 career games.
– Tina Charles' 20 points marks her 14th consecutive game with double-figure points, her 22nd this season and the 106th of her career.
– Tina Charles' 14 straight games with double-figure points marks the longest such stretch of her career, surpassing a stretch of 13 straight games in double-figure points in 2008-09.
– UConn's 54 first-half points marks the 10th time this season that UConn has recorded at least 50 points in the opening half.
– UConn tallied eight 3-point field goals in the first half – while limiting Louisville to a total of seven field goals overall for the first 20 minutes.
– Caroline Doty's 11 points marked her ninth game in double-figure points this season and her first since Jan. 18 at Duke.
– Tina Charles' 20 points marked her eighth game this season with 20 or more points and the 26th of her career.
– Maya Moore tied a career-high with five blocks.
– Lorin Dixon's 10 rebounds marked a career high.
– Today's crowd of 14,324 at Louisville marked UConn's largest road crowd this season.
– UConn has won 18 of its 23 games this season by a margin of at least 30 points, including the last six straight.
– UConn has won 11 games this season by at least a 40-point margin following today's win at Louisville.