I think this may have caught some people off guard, including myself.
It was announced on Saturday that UConn Huskies sophomore guard Bria Hartley has been named to the 2012 State Farm/WBCA All-American Team. She is just the fourth UConn sophomore to be named to the most prestigious All-American team in women's basketball.
Here's the release from UConn:
DENVER, Colo. – Sophomore guard Bria Hartley has been selected to the Women's Basketball Coaches Association/State Farm All-America Team as announced by the WBCA on Saturday, March 31. Hartley is the 15th Husky to be honored on the WBCA State Farm All-America squad and Connecticut now has 25 selections all-time.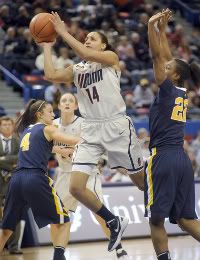 Hartley is only the fourth UConn sophomore to be named to the team along with Svetlana Abrosimova (1998-99), Diana Taurasi (2001-02) and Maya Moore (2008-09). Moore was also selected to the team during her freshman campaign.
Hartley, a member of the preseason Wade and Wooden Award Watch Lists, has averaged 13.9 points, 3.9 rebounds and 3.7 assists during her sophomore campaign. She was tabbed an All-BIG EAST First Team selection a year after being named the BIG EAST Rookie of the Year. She has also earned a spot on the BIG EAST All-Tournament squad in each of the last two seasons.
Connecticut has had a representative on the State Farm All-America in each season since 2007-08.
Joining Hartley on the prestigious squad are Skylar Diggins (Notre Dame), Elena Delle Donne (Delaware), Brittney Griner (Baylor), Glory Johnson (Tennessee), Shenise Johnson (Miami), Chiney Ogwumike (Stanford), Nneka Ogwumike (Stanford), Odyssey Sims (Baylor) and Alyssa Thomas (Maryland).
To see the full list of UConn players who have been named to the team, please click on the read more button below if you're on the home page.
State Farm/Kodak All-America First Team
Bria Hartley – 2011-12
Maya Moore – 2010-11
Tina Charles – 2009-10
Maya Moore – 2009-10
Tina Charles – 2008-09
Renee Montgomery – 2008-09
Maya Moore – 2008-09
Renee Montgomery – 2007-08
Maya Moore – 2007-08
Diana Taurasi -2003-04
Diana Taurasi – 2002-03
Sue Bird – 2001-02
Swin Cash – 2001-02
Diana Taurasi – 2001-02
Svetlana Abrosimova – 2000-01
Svetlana Abrosimova – 1999-00
Shea Ralph – 1999-00
Svetlana Abrosimova – 1998-99
Nykesha Sales – 1997-98
Nykesha Sales – 1996-97
Kara Wolters – 1996-97
Jennifer Rizzotti – 1995-96
Rebecca Lobo – 1994-95
Jennifer Rizzotti – 1994-95
Rebecca Lobo – 1993-94
Kerry Bascom – 1990-91
Follow Ian on Twitter @soxanddawgs. And be sure to like us on Facebook as well.
photo credit: John Woike – Hartford Courant