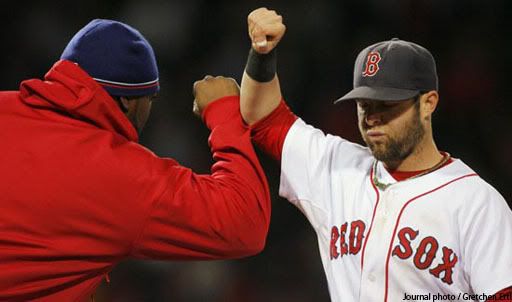 With last night's 5-4 win over the Cleveland Indians, the Boston Red Sox still have an outside chance of winning the AL East. All they have to do is win their final 3 games against the Yankees and the Rays need to lose their final 3 games. All I will say is never say never.
Jon Lester was outstanding in his final start before the ALDS as he no-hit the Indians for 5 innings, losing it in the top of the 6th. He finished it up with a 2-hitter and picked up his 16th win of the season. Lester continually pounded the strike zone last night and had great command of his pitches as well.
Despite having the no-hitter through 5 innings, Lester wasn't thinking about it since he knew he wasn't going to finish the game.
"I didn't isolate myself from anybody," he said. "I still went to talk to Tek, talk to Johnny, and figure some things out. I'm not going to sit on the edge of the bench and not talk to my teammates just because of that. I don't really understand that. They're out there catching the ball for you and hitting it, so you've got to keep them occupied and keep their minds off it, too."

But a no-hitter through five? "[It's] good, but you still have a long way to go where it starts to set in," Lester said. "I don't think until about the seventh inning you start to really worry about it. Five innings is nice but when you get deeper in the ballgame is where it starts to mean a little more."
It's definitely been a pleasure watching Lester this season, especially given all the adversity he's faced in the past 2 years. And it will be a pleasure for years to come to watch him take the mound every 5 days or so.
Jhonny Peralta will give third base a try for the Indians this weekend.
Mike Timlin hopes to be included on the Red Sox postseason roster.
Brendan Donnelly hopes to return to the Indians next season.
The inclement weather that will be in the area this weekend may limit to how much Mike Lowell plays.
Fausto Carmona and Victor Martinez both had 1 game knocked off their suspensions.
Tommy Harper still hopes that Jacoby Ellsbury breaks his stolen base record this weekend.
The Red Sox are preparing for the longer 8-day ALDS.
Sean McAdam says the Red Sox MVP for 2008 has to be Dustin Pedroia or Kevin Youkilis?  Let us know what you think by voting in the poll in the left sidebar here at SOX & Dawgs.
Lastly, if rain does cancel the game tonight, the ceremony honoring Johnny Pesky tonight will most likely be Sunday afternoon.
For more slices of Red Sox goodness, head over to the Boston Globe, Boston Herald, Hartford Courant and Providence Journal websites.
And if you must see what the enemy papers are saying, you can check out The Plain Dealer and Akron Beacon Journal websites.