For the third time in four weeks, a member of the Boston Red Sox has been named the American League Player of the Week. Here's the release:
Boston Red Sox designated hitter David Ortiz has been named the American League Player of the Week for the period ending June 5th. The announcement was made earlier today on MLB Network.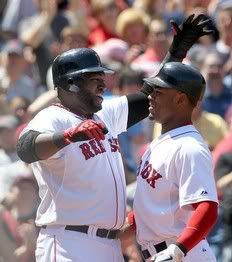 In six games last week, Ortiz batted .545 (12-for-22) with four doubles, two home runs, six RBI and five runs scored on his way to joining teammates Adrian Gonzalez and Carl Crawford as the third Red Sox player in a four-week span to garner A.L. Player of the Week honors. The 15-year veteran finished tied for first in the A.L. in doubles and total bases (22), was second in batting average, slugging percentage (1.000) and on-base percentage (.583) and was tied for second in the league in hits. On Tuesday, May 31st in Boston, the Dominican Republic native finished off a strong month of May, going 2-for-4 with a three-run home run against the Chicago White Sox. Ortiz finished the month with a club-leading .342 (38-for-111) batting average with nine doubles, 10 home runs and 16 RBI to help Boston pull within one game of the New York Yankees for the A.L. East lead heading into today's games. On Wednesday, the 35-year-old doubled and launched his second homer in as many days, his 13th of the season, in a 7-4 loss to the White Sox.
To continue reading, click on the read more button below if you're on the home page.
Ortiz batted .545 (6-for-11) with a double, two home runs and four RBI in the series against Chicago. On June 3rd, the six-time A.L. All-Star recorded a pair of hits, including a double and two RBI as the Red Sox pulled out an 8-6 victory over the Oakland Athletics in Boston. It marked the fifth consecutive multi-hit game at home for Ortiz, a career-best for the left-handed hitting slugger. On Sunday, June 5th, the four-time Louisville Slugger Silver Slugger Award winner went 3-for-4 with a double and a run scored as the Red Sox defeated the A's, 6-3, to complete a three-game sweep. It was Big Papi's fourth straight game with a double and it extended his current hitting streak to six games. It was also the fifth multi-hit game of the week for Ortiz and his 17th in his last 28 games dating back to May 5th. This is David's fifth career weekly honor (last accomplished on 8/26/07).
Other noteworthy performances from this past week included Ortiz's teammates Adrian Gonzalez (.423, 11 H, 3 HR, 5 RBI) and Carl Crawford (.348, 2 2B, 1 HR, 8 RBI); Los Angeles Angels of Anaheim designated hitter Bobby Abreu (.611, 11 H, 4 2B, .833 SLG); Detroit Tigers first baseman Miguel Cabrera (.300, 4 HR, 7 RBI, 7 BB); Kansas City Royals rookie first baseman Eric Hosmer (.400, 12 H, 3 2B, 7 RBI); Texas Rangers outfielder Endy Chavez (.524, 11 H, 5 RBI) and left-hander Derek Holland (2-0, 3.07 ERA, 12 K, SHO at Cleveland on 6/4); New York Yankees right-hander Bartolo Colon (2-0, 1.88 ERA, 10 K, SHO at Oakland on 5/30); and Seattle Mariners southpaw Jason Vargas (1-0, SHO vs. Tampa Bay on 6/3).
The winner of the American League Player of the Week, David Ortiz, will be awarded a watch courtesy of Game Time, the leader in licensed sports watches, available at MLB.com.
Photo credit: Getty Images