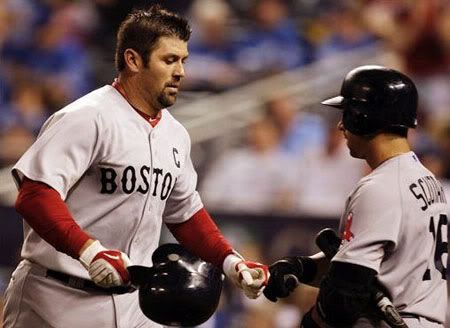 Jeremy Hermida, Jason Varitek and Mike Lowell had been sitting on the Boston Red Sox bench for the first four games of the season. They finally got their chance to play on Saturday night against Zack Greinke and the Kansas City Royals.
The trio came through as Tek had two home runs, Hermida had one home run while Lowell had a single and few defensive gems to back Josh Beckett in the 8-3 win in front off 37,505 at Kauffman Stadium.
The win for the Red Sox (2-3) ends a three-game losing streak while the Royals fall to 2-3.
It was a much better start for Beckett on Saturday night as he had good command of all his pitches including his curve ball. He did run into trouble a few times but was able to escape with minimal damage. He went seven innings, allowing three runs on nine hits and a walk with four strikeouts.
The much beleaguered Red Sox bullpen was perfect on this evening.
Both Hideki Okajima and former Royal Ramon Ramirez each threw clean innings. Jonathan Papelbon had been warming up to come out in the 9th but the Red Sox added three runs in the 9th forcing him back to the bench.
The Red Sox had 12 hits off of four Royals pitchers.
Jacoby Ellsbury led the way with three hits and had an RBI. Dustin Pedroia knocked in three runs, one of them on a sac fly and the other on a two-run homer. Both of  Tek's home runs were of the solo variety as was Hermida's. Kevin Youkilis had two hits including a solo home run of his own.
Rick Ankiel continued his hot hitting as he had two hits, including an RBI single to give the Royals a 1-0 lead in the bottom of the 1st.
Greinke kept the Red Sox off the scoreboard until the 5th inning when he hung breaking balls to Hermida and then Varitek, who both knocked them out of the park.
The Red Sox added two runs in the 7th when Ellsbury doubled in Marco Scutaro with Ellsbury ending up at third on the throw home. Pedroia brought him home with a sac fly to make it 4-1 Red Sox.
Beckett's one bad inning came in the bottom half of the 7th when the Royals scored two runs to cut the lead to one. But the resilient Red Sox added a run in the 8th on Youk's home run and three in the 9th on Tek's second home run and Pedroia's 2-run shot.
The Red Sox will look to take the rubber game tomorrow afternoon at 2:10 p.m. when Clay Buchholz makes his 2010 debut. He'll be opposed by Gil Meche, who'll also be making his first start of the season.