Attention UConn Huskies women's basketball fans!!!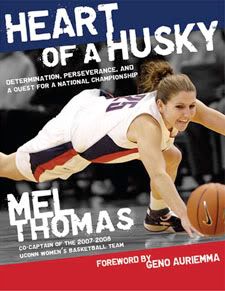 Would like you a chance to ask former Husky great Mel Thomas a question and a chance to win her new book "Heart of a Husky"? If so, continue reading on to learn the details.
I was presented with an opportunity to interview Mel about her book from the publisher and immediately said yes I'd love to do it. And after I thought about it, I said why not give her fans a chance to ask some questions. So I presented that to Mel and the publisher and they have kindly agreed to let fans ask questions of Mel about the book.
I was also given a copy of the book, which I already own, so I'll be giving away a copy of the book as well.
The rules are pretty simple to have a chance to win the book. Ask Mel a question here in the comments below and you will be entered in a drawing to win a copy of  "Heart of a Husky". Please try to ask questions about the book but I'm sure she'll answer some questions about playing in Ireland and about her dreams of playing in the WNBA as well. One entry per email address. Any questions deemed derogatory in nature by myself will be removed.
We will take the best 10-15 questions and Mel will answer them for you in the coming days. But remember even if you're question doesn't get answered, you will still have a chance to win the book.
I have read the book and it's very well written. It gives you a great glimpse into what it's like to play for Geno Auriemma and what it's like to be a star athlete at UConn. She also reflects back on her younger days as well. Trust me, you won't be disappointed when you read this book. So if you can't wait for the chance to win the book, you can purchase one through Mel's website, melthomas.com.
Remember, ask your question about the book below in the comments for a chance to win the book.
A special thanks to Howard Cohen and Mel Thomas for making this possible.