After falling in both games that were played and finished on Saturday night, the Boston Red Sox look to get back on track against the Tampa Bay Rays on Sunday afternoon.
This afternoon's game will start at 1:35 p.m. and will be shown on NESN in the Red Sox television market and will be broadcast on Sun Sports in the Rays television market. If you don't live in either market, you can watch the game on TBS. If you can't catch the television broadcast, you can always listen to the game on the 2010 Red Sox radio network.
Jon Lester takes the ball looking for his first win in 2010. In two previous starts, he is 0-1 with a 7.20 ERA. He made five starts against the Rays in 2009 was 2-2 with a 4.91 ERA. Lester's made 12 career starts against the Rays and is 6-2 with a 4.00 ERA.
Matt Garza is off to a nice start in 2010 as he is 2-0 with a 1.13 ERA. He made six starts against the Red Sox in 2009 and was 2-1 with a 2.74 ERA. He's had good success against the Red Sox in 12 career starts as he is 5-2 with a 3.23 ERA. He's made six career starts at Fenway Park and has a 3-2 record with a 3.62 ERA.
Keep reading for lineups, batter/pitcher matchups and pregame links.
8-3

4-7

1. Jason Bartlett
SS
1. Marco Scutaro
SS
2. Carl Crawford
LF
2. Dustin Pedroia
2B
3. Ben Zobrist
2B
3. Victor Martinez
DH
4. Evan Longoria
3B
4. Kevin Youkilis
1B
5. Carlos Peña
1B
5. J.D. Drew
RF
6. B.J. Upton
CF
6. Adrian Beltre
3B
7. Willy Aybar
DH
7. Jeremy Hermida
LF
8. Dioner Navarro
C
8. Jason Varitek
C
9. Gabe Kapler
RF
9. Mike Cameron
CF
Matt Garza
SP
Jon Lester
SP
Here's the hitters have fared against this afternoon's starting pitchers in their careers: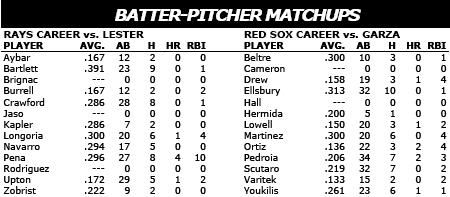 To open the links up in a new tab or window, use Control+click
Red Sox swept away by the grateful Rays [Boston Globe]
Ellsbury runs in place, but gets closer [Boston Globe]
Buchholz settles in after rocky ride [Boston Globe]
Lester no early riser [Boston Globe]
Hot ticket, lousy team [Boston Herald]
Squandered chance haunts soggy Sox [Boston Herald]
Patience often pays for Terry Francona [Boston Herald]
Jacoby Ellsbury breathes easy [Boston Herald]
Jason Varitek's tank not empty yet [Boston Herald]
Hotel Commonwealth has suite deal for Sox fans [Boston Herald]
Garza's here, Ortiz to sit [Clubhouse Insider]
Rays-Red Sox Pregame Thoughts [CSN New England]
Misery, twice over [ESPN Boston]
Picking up the pieces from a lost night [Extra Bases]
Zimmer ready for his return [Extra Bases]
Josh Reddick, secret agent [Extra Bases]
Closing time: Rays 6, Red Sox 5 [Full Count]
Pre-game notes: Red Sox vs. Rays, 4/18 [Full Count]
Joe Maddon Ordered to Stop Wearing Trademark Blue Hoodie [NESN.com]
Terry Francona Not Concerned With Red Sox' Defense Thus Far [NESN.com]
Frustration Begins to Mount as Miscues Cost Red Sox Two Wins [NESN.com]
Are Jon Lester's April Struggles for Real or Just an Aberration? [NESN.com]
Clay Buchholz Chalks Up Loss to Rays to 'Misfortune' [NESN.com]
Papelbon's availability up in the air [Projo Sox Blog]
Burrell gets what he was waiting for [Providence Journal]
Sox offense falls short in Game Two [Providence Journal]
Rays keep their feet on gas pedal [Providence Journal]
Bogar shrugs off his first error in judgment [Providence Journal]
Red Sox Journal: With Papelbon's new arrival, Bard gets nod [Providence Journal]
Sox try to cope with Rays stolen bases [RedSox.com]
Papelbon welcomes second child [RedSox.com]
Ellsbury could return to lineup next week [RedSox.com]
Cameron back in lineup after kidney stone [RedSox.com]
Ortiz being sued by Jay-Z [RedSox.com]
Garza to oppose Lester in pitchers' duel [RedSox.com]