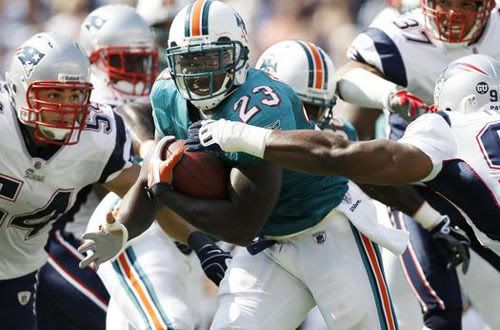 The Result
There was not a lot to be happy about today if you were a New England Patriots fan as the Miami Dolphins manhandled them 38-13 at Gillette Stadium in Foxboro MA on Sunday afternoon. It was the first win of Tony Sparano's NFL coaching career and it was a dominant one.
The Dolphins picked apart New England both offensively and defensively but the star of the game was Miami running back Ronnie Brown as he ran for 4 TDs including a 62-yarder and threw for a fifth in the rout.  In addition to the 62 yard jaunt Brown delivered on runs of 2, 15 and 6 yards and threw a 19 yard TD pass to tight end Anthony Fassano as Miami scored on drives of 74, 79, 77, 79, 85 and 41 yards.  Brown teamed up in the backfield with Ricky Williams and that combined with the accurate passing of Chad Pennington made the Dolphins who had lost 20 of their last 21 games look like world beaters.
Miami beats New England for the Patriots first regular season loss since the Dolphins shut them out 21-0 in December of 2006.  It's a win Miami can build on and a loss New England would like to forget. Unfortunately for them they'll have a while to think about it as they have a bye next Sunday.
Scoring Plays
| | | | | | |
| --- | --- | --- | --- | --- | --- |
| DOLPHINS | 7 | 14 | 7 | 10 | 38 |
| PATRIOTS | 0 | 6 | 7 | 0 | 13 |
1st Quarter
MIA – Brown 2 yard run – PAT good
2nd Quarter
NE – Gostkowski 37 yard FG
MIA – Brown 15 yard run – PAT good
NE – Gostkowski 44 yard FG
MIA – Brown 6 yard run – PAT good
3rd Quarter
MIA – Brown 19 yard pass to Fassano – PAT good
NE – Cassel 4 yard pass to Gaffney – PAT good
4th Quarter
MIA – Brown 62 yard run – PAT good
MIA – Carpenter 39 yard FG
Offensive Player of the Game
Miami running back Ronnie Brown tore the New England defense up scoring 4 TDs on the ground and throwing for a fifth.  He had 113 yards on 17 carries and was 1/1 throwing the ball.
Defensive Player of the Game
Miami linebacker Joey Porter.  Porter talked and he backed it up.  But on the field he played like he used to when he was in Pittsburgh registering 6 tackles and 3 sacks of Matt Cassel.
Turning Point(s) of the Game
Ronnie Brown's 15 yard TD run in the second quarter seemed to deflate the team and the fans. He went up the gut and wasn't touched until he knocked over Ellis Hobbs halfway in the end zone.
Offensive Leaders/Notes
Patriots were led by Wes Welker who had 6 catches for 55 yards and Jabar Gaffney who had 5 catches for 51 yards and a TD.
1st drive 1st/10 MIA 49 Matt Cassel throws to Jabar Gaffney for 6 yards
3rd/4 MIA 43 Cassel's pass batted down NE punts.
2nd drive 1st/10 NE 39 Cassel to Randy Moss for 6 yards to NE 45
2nd/4 Cassel to Moss for 5 yards to 50
1st/10 midfield Sammy Morris 17 yard run
1st/10 MIA 33 Cassel to Wes Welker for 14 yards
1st/10 MIA 19 Cassel to Ben Watson for 6 yards
2nd/4 MIA 13 Morris 3 yard run
3rd/1 MIA 10 Morris 3 yard run
1st/goal MIA 7 Cassel sacked by Joey Porter 5 yard loss
2nd/goal MIA 12 Cassel called in the grasp of Phil Merling 4 yard loss
3rd/goal MIA 16 pass intercepted by Randy Starks at MIA 18 returned to MIA 26
3rd drive 1st/10 NE 25 Morris 1 yard loss
2nd/11 NE 24 Cassel to Welker for 6 yards
3rd/5 NE 30 reverse to Welker for 19 yards
3rd/9 midfield pass incomplete illegal contact penalty give NE 1st down
1st/10 MIA 45 Morris 1 yard loss
3rd/11 MIA 46 Cassel to Welker for 9 yards
4th/2 MIA 37 Cassel to Gaffney 12 yards
1st/10 MIA 25 Cassel to Welker loss of 2 yards
2nd/12 MIA 27 Cassel to Moss for 6 yards
3rd/6 MIA 21 Cassel to Faulk for 2 yards
4th/4 MIA 19 Gostkowski 37 yard FGA good
4th drive 1st/10 NE 34 LaMont Jordan runs for 7 yards
3rd/2 NE 42 Cassel to Sam Aiken for 9 yards
1st/10 MIA 49 Cassel to Welker on tipped pass for 21 yards
4th/8 MIA 26 Gostkowski 44 yard FGA is good
5th drive NE 29 1st/10 Faulk 4 yard run
2nd/6 Cassel sacked for 8 yard loss
3rd/14 NE 25 Faulk 6 yard run
HALFTIME

6th drive 1st/10 NE 34 Morris runs for 2 yards
2nd/8 NE 36 pass incomplete
3rd/8 NE 36 pass incomplete NE punts
7th drive 1st/10 MIA 23 incomplete
2nd/10 MIA 23 Cassel to Welker for 9 yards
3rd/1 MIA 14 Morris 2 yards
1st/10 MIA 12 incomplete
2nd/10 MIA 12 Cassel to Moss 8 yards
3rd/2 MIA 4 incomplete
4th/2 MIA 4 Cassel to Gaffney 4 yards for TD
8th drive 1st/10 Cassel to Gaffney 7 yards
3rd/3 NE 43 Cassel fumbles recovered by Joey Porter at NE 49
1st/10 NE 8 Cassel roughed by Vonnie Holliday 1st down
NE punts
Defensive Leaders/Notes
Patriots rookie linebacker Jerod Mayo and safety Rodney Harrison each had 12 tackles.
1st series 1st/10 MIA 15 Greg Camarillo grabs 6 yard pass from Chad Pennington
3rd/2 MIA 23 Richard Seymour bats down Pennington's pass MIA punts
2nd series 2nd/10 MIA 26 Brown runs for 4 yards
3rd/5 MIA 30 Pennington to Anthony Fassano for 24 yards
1st/10 NE 46 Pennington to Ted Ginn 14 yards then fumbled out of bounds NE penalty declined
1st/10 NE 32 Brown runs for 5 stopped by Ty Warren
2nd/5 NE 27 Pennington to Fassano 23 yards
1st/goal NE 4 Brown runs for 2 yards
2nd/goal NE 2 Brown 2 yard run for TD
3rd series 1st/10 MIA 21 Pennington to Camarillo 33 yards to NE 46
1st/10 NE 46 Ricky Williams 2 yard run
2nd/8 NE 44 Pennington to David Martin 21 yards
1st/10 NE 23 Pennington to Ginn for 4 yards
2nd/6 NE 19 Pennington to Davone Bess for 4 yards
3rd/2 NE 15 Brown 15 yard run for TD
4th series 1st/10 MIA 23 Williams runs for 3 yards
2nd/7 MIA 26 Pennington 7 yards to Ginn
1st/10 MIA 33 Pennington to Williams for 9 yards
2nd/1 MIA 42 Williams 2 yard run
1st/10 MIA 44 Pennington to Camarillo for 11 yards
1st/10 NE 45 Williams 28 yard run
1st/10 NE 17 Brown 2 yard run Adalius Thomas tackle
2nd/8 NE 15 Pennington to Camarillo for 9 yards
1st/goal NE 6 Brown 6 yard run for TD
HALFTIME
5th series 1st/10 MIA 20 Brown dropped for no gain by Mayo and Mike Vrabel
2nd/10 MIA 20 Brown 5 yard run
3rd/5 MAI 25 Adalius Thomas knocks down pass MIA punts
6th series 1st/10 MIA 21 Pennington to Ginn for 18 yards
1st/10 MIA 39 Williams 6 yard run
2nd/11 MIA 48 Pennington to Williams for 13 yards
1st/10 NE 40 Brown dropped for loss of 1 by Ty Warren and Tedy Bruschi
2nd/11 NE 41 Pennington to Ernest Wilford for 15 yards
1st/10 NE 26 Williams runs for 1 stopped by Deltha O'Neal
2nd/9 NE 25 Pennington to Ginn for 6 yards
3rd/3 NE 19 Brown throws to Fassano 19 yards for TD
7th series 1st/10 MIA 15 Pennington to Brown for 9 yards
2nd/1 MIA 24 Brown runs for 3 yards
1st/10 MIA 27 Browns runs for 8 yards
8th series 1st/10 MIA 38 Brown runs 62 yards for a TD
Special Teams Notes
Ellis Hobbs 50 yard KOR to open game.
James Sanders nice hit on KOC after 2nd qtr FG
Hobbs 30 yard KOR after 2nd MIA TD
Gostkowski opened 2nd half with a touchback
Hobbs 81 yard KOR after 4th MIA TD
Coverage team drops Best behind MIA 15 after 1st NE TD
Coaching Decisions
NE – 4th/2 at MIA 37 Cassel throws 12 yards to Gaffney for 1st down
Injuries
NE – LB Tedy Bruschi knee – 3rd qtr – return unknown
NE – Brandon Meriweather knee – 4th qtr -unknown return
The Officials
Bill Carollo was the referee.  He will retire at season's end to become director of officials for the Big Ten Conference.
1st quarter awful in the grasp call led to an early whistle resulting in a 4 yard loss.
Game Notes
The Patriots wore their white road jersey's at home.  It is the second home game in a row they've worn white jersey's.  When they did it Week 1 it was the first time they had worn white at home in 14 years.
Inactives for the Dolphins: WR Brandon London, RB Jalen Parmele, G Shawn Murphy, DE Lionel Dotson, T Nate Garner, T Kirk Barton, DE Rodrigue Wright and QB John Beck (3rd QB).
Inactives for the Patriots: RB Laurence Maroney (injured -shoulder), WR Kelly Washington (injured-ankle), LB Eric Alexander (injured-calf), RB Kyle Eckel, C Dan Connolly, LB Shawn Crable, OT Wesley Britt and QB Matt Gutierrez (3rd QB).
Note: The third quarterback can still enter the game at any time, but if he does so in the first, second or third quarters, the team can no longer use its top two quarterbacks the rest of the game.
Offensive starters for the Patriots:
QB: Matt Cassel
RB: Sammy Morris
WR: Jabar Gaffney
WR: Randy Moss
WR: Wes Welker
TE: David Thomas
LT: Matt Light
LG: Logan Mankins
C: Dan Koppen
RG: Billy Yates
RT: Nick Kaczur
Defensive starters for the Patriots:
DE: Ty Warren
NT: Vince Wilfork
DE: Richard Seymour
OLB: Adalius Thomas
ILB: Tedy Bruschi
ILB: Jerod Mayo
OLB: Mike Vrabel
CB: Deltha O'Neal
CB: Ellis Hobbs
S: Rodney Harrison
S: James Sanders
The Dolphins won the toss and defered to the second half.
Patriots allowed their first rushing TDs in 6 games
At halftime the Patriots honored the 13 members of their team Hall of Fame.
The Patriots were losing at home at half time for the first time since November 12, 2006.
The Patriots 21 consecutive regular season win streak ends.  It is the longest regular season win streak in NFL history.
On this day in Patriots history in 1986 QB Tony Eason threw for a then team record 414 yards in a 38-31 loss to Seattle in Foxboro.  He was 26/45 with 3 TDs and no INTs.  Also on this day in 1997, the team went to 4-0 for the third time in team history with a 31-3 win over Chicago.
Matt Light played his 100th regular season game as a Patriot today.
The Dolphins have won only 4 of the last 12 games in the series.
The Patriots are 36-10 in the division since 2001 it is the best record vs. division foes in the NFL in that span.
Post Game Press Conferences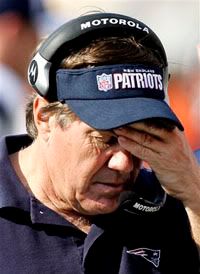 Listen to what Patriots head coach Bill Belichick and quarterback Matt Cassel had to say about the game.
Post game press conferences via patriots.com
Things To Work On For Next Week
Everything except special teams which were the lone bright spot.  Defensively they were shreaded by land and air and if Miami could have done something with water they wpould have shreaded them by sea as well.  offensively nothing seemed to click as Miami constantly pressured Cassel giving him little time to throw and they bottle the running game which was shorthanded with Maroney out and Jordan hurting.
Next Week's Opponent
The Patriots have a bye week next Sunday and will travel to San Francisco to play the 49ers in Week 5.