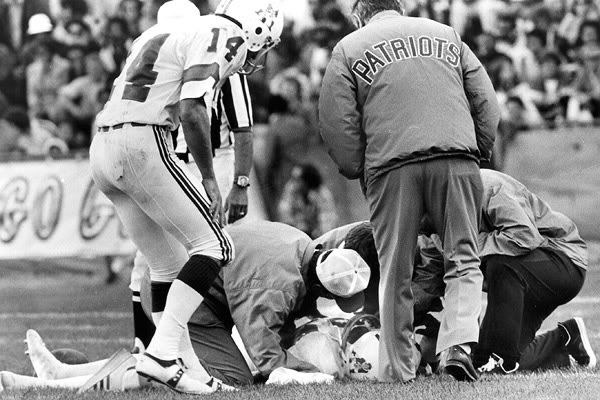 Former Oakland Raiders safety Jack Tatum died Tuesday at age 61 of a heart attack. He had battled diabetes and other illnesses for years. Tatum, who had 37 career interceptions, played 10 seasons in the NFL , nine of them with Oakland, and went to three Pro Bowls and won one Super Bowl.
But he is best remembered as the man who paralyzed New England Patriots WR Darryl Stingley in a 1978 preseason game. Stingley, who over the years would regain some limited use of his body, spent the rest of his life in a wheel chair until he died in 2007. Tatum never apologized nor ever spoke to Stingley after the incident. Stingley's former QB Steve Grogan just couldn't forgive the man for that.
"I have a hard time trying to find something nice to say," Grogan said about Tatum. "That bothers me because I'm not like that normally. You may talk to guys that played with him, and they might tell you he was greatest teammate in the world and everybody loved him.
"The circumstance that we were involved with, just the way he handled it, that will never come out of any of our mouths or minds."
"When something like that happens and you can't apologize for it, go out and write a book to make money and try to get famous off the incident, that's just not right," Grogan said. "I thought he handled it very poorly."
Tatum, who wrote three books called "They Call Me Assassin"; "They Still Call Me Assassin" and "Final Confessions of NFL Assassin Jack Tatum" once suggested that he and Stingley have a live televised reconciliation to promote one of his books.
It never came to be, although Stingley as late as 2003 told the Boston Globe he would welcome a visit or call from Tatum that didn't have a commercial agenda attached to it.
"If he called me today, I'd answer," Darryl Stingley said. "If he came to my house, I'd open my door to him. All I ever wanted was for him to acknowledge me as a human being. I just wanted to hear from him if he felt sorry or not. It's not like I'm unreachable. But it's not a phone call I'll be waiting for anymore."
NFL Hall of Fame writer John Clayton wrote in his remembrance of Tatum that his behavior toward Stingley likely kept him from the Hall of Fame.
Photo credit: Ron Riesterer/The Sporting News/ZUMA Press