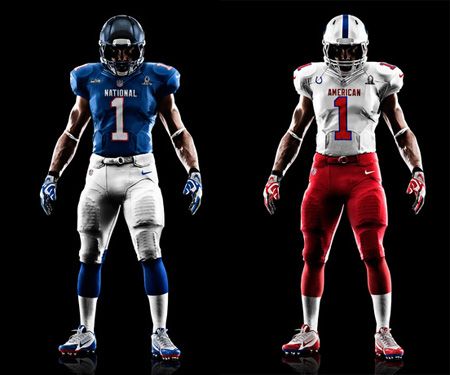 Today the NFL and Nike unveiled the new retro-modern 2013 Pro Bowl uniform design just ahead of Sunday's match-up in Honolulu, Hawaii.
Both the AFC and NFC looks feature a clean, simple, distinctly American design inspired by the Pro Bowl uniforms of the 1970s, combined with the highly innovative Nike Elite 51 uniform chassis built for speed. The combination of modern innovation and traditional design speaks to the Pro Bowl's rich history while providing a distinct tribute to the red, white and blue.
Designed and engineered from the inside out, the Nike NFL Elite 51 uniform creates a system where the baselayer, padding, jersey and pant work in concert. Lightweight padding is also integrated directly into the crucial "hit zones" in the baselayer. New innovations include integrating Flywire technology into the neckline to reduce weight and provide lockdown fit over pads, increasing sleeve articulation for better range of motion, and integrating new four-way stretch fabrication to provide a streamlined shrink-wrap fit.
Follow Ian on Twitter @soxanddawgs. And be sure to like us on Facebook as well.