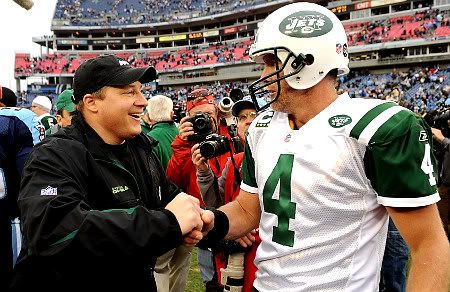 "Oh what tangled webs we weave, when we practice to decieve".
That in a nutshell appears to be the motto of the NFL's new cheaters, the New York Jets. The once holier than thou football team has been caught doing what they publicly despised.
They cheated.
In an interview with the Minnesota media last week former Jets QB Brett Favre revealed that some where around Week 10 or so of the 2008 season the Jets were aware of his torn biceps muscle due to a MRI by the team physician. Favre went onto say he encouraged the team to rest him for a few weeks to let his arm rest.
This isn't a case of a team playing with an injury report and saying a player was probable all week only to declare him out on gameday. Oh no, this was a malicious deception crafted by former head coach Eric Mangini, VP Mike Tannenbaum and the clubs coaching, medical and front office staff. This was the known circumvention of a rule designed to protect the integrity of the game.
The NFL looked into Favre's claim and found it to be truthful and fined the team, Tannenbaum and Mangini a total of $125,000 which to me wasn't steep enough. The Jets cheated plain and simple and the punishment needs to fit the crime.