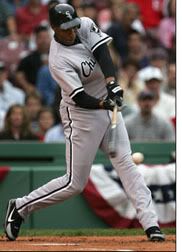 According to Fox Sports Ken Rosenthal, the Red Sox nearly acquired Jermaine Dye earlier this week. The deal with Chicago and an unnamed third team reportedly fell through when because of an issue involving a player on third team. Rosenthal reports that the Red Sox gave Dye assurances that he would play five times a week. Dye is willing to waive his limited no-trade clause if he secures guarantees about his playing time and incentives.
The Red Sox also remain in the running for Royal reliever Octavio Dotel. Rosenthal says the Dodgers are the front runners along with the Indians, who offered Ben Francisco, the Mariners, Braves and Tigers. No word on what player the Sox are putting on the table for Dotel but I'd imagine Wily Mo Pena would be involved. Kansas City would be an awesome place for Pena to play and garner the at bats he needs to work on his game.
Also according to Rosenthal some other hot rumors are: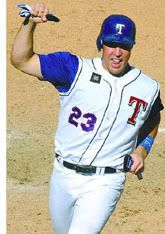 Rangers 1B Mark Teixeira. The Braves have made a knock out offer of Jarrod Saltalamacchia, Double A lefty Matt Harrison, and A Ball short stop Elvis Andrus. The Dodgers are trying as well offering 1B James Loney, OF Andre Either and a prospect. The Angels are in the mix too having 1B Casey Kotchman on the table with Ervin Santana and some prospects but they want the Rangers to add prospect Brandon Wood.
The Twins are looking to move 2B Luis Castillo and P Carlos Silva. No word on Torii Hunter or Johan Santana.
The Marlins are saying they will not trade Dontrelle Willis.
The Angels, D-Backs and Padres are all interested in Adam Dunn of the Reds. Arizona prefers players they can control beyond this season but Dunn's contract allows his to go to free agency if he were traded. The Reds have also received calls about P Kyle Lohse and 1B Jeff Conine.
Houston is looking to move Brad Lidge, Chad Qualls and/or Dan Wheeler.
The Royals have been asked about P Zack Greinke by the D-Backs, Dodgers, Braves and Cubs but it is unlikely they would move him.
The A's are willing to listen to offers for Joe Blanton and Hudson Street and the Cardinals are willing to move Jason Isringhausen but Rosenthal reports those chances are remote.