Here's the press release from MLB and TBS announcing that TBS will broadcast the MLB Wild Card games:
Major League Baseball and Turner Broadcasting System, Inc. announced today that TBS will exclusively televise the American League and National League Wild Card games in 2012 and 2013. The new Postseason format will feature the two Wild Card teams in the American League and National League playing in a single-elimination game with each winner advancing to compete with the three division champions from its League in the Division Series. MLB also announced that two Division Series games in each of the 2012 and 2013 Postseasons will shift from TBS to MLB Network.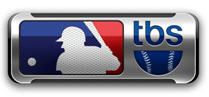 Turner's partnership with MLB spans more than 35 years. TBS has televised all MLB Division Series games and one League Championship Series each year since 2007. In 2012, the network will televise 18 of 20 potential Division Series games and will have exclusive coverage of the American League Championship Series (ALCS). In addition to the MLB Postseason, TBS televises a 26-game "Sunday MLB on TBS" regular season schedule and is the exclusive home of the 2012 MLB All-Star Selection Show airing July 1.
TBS will also continue to televise any necessary regular season tie-breaker games. The network has recently aired three memorable regular season tie-breakers, including Padres vs. Rockies in 2007, Twins vs. White Sox in 2008, and Tigers vs. Twins in 2009.
MLB Network will exclusively televise two Division Series games in each of the next two years, marking the first time MLB Network will air live Postseason games. MLB Network has produced weekly original game telecasts since its inaugural season in 2009. With a roster of on-air talent including Bob Costas, Jim Kaat, Al Leiter, Harold Reynolds and Matt Vasgersian, MLB Network has received 28 Sports Emmy Award nominations and nine Sports Emmy Awards.
"The new format will create two compelling Wild Card match-ups for fans that will begin our Postseason with unprecedented pressure and implications," said Commissioner Allan H. (Bud) Selig. "We are confident that TBS will provide outstanding coverage and promotion of the games. I am also very pleased that this arrangement allows for MLB Network to air Postseason games for the first time. MLB Network has done a remarkable job with its live game coverage and I am certain that its extraordinary work will continue as it produces Postseason games."
"We applaud Major League Baseball on their decision to expand Postseason eligibility and we're excited to build upon our long-standing partnership with MLB by adding these highly anticipated exclusive Wild Card games to our Postseason coverage on TBS," said David Levy, president of sales, distribution and sports for Turner Broadcasting System, Inc. "We believe the additional single-elimination Wild Card spots will build upon the popularity of the sport and will serve as a great launching pad for our Division Series and ALCS coverage on TBS."
The new format this season marks the first amendment to the Postseason since MLB utilized the six-division, eight-team Postseason structure for the first time in 1995.
Follow Ian on Twitter @soxanddawgs. And be sure to like us on Facebook as well.