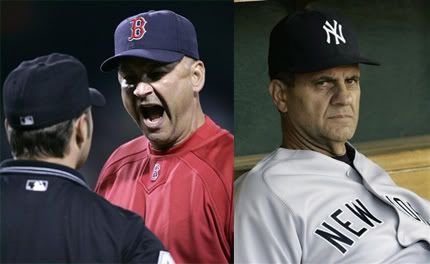 If you're wondering about why I am adding Yankees news into the normal Red Sox news & notes, it's because the two teams are playing each other for the next 3 days. Right now the Red Sox hold an 8 game lead as they look to distance themselves from the Yanks. The Yanks come into the series fresh off a 16-0 mauling by the Tigers while the Red Sox come well-rested after a day off. Moving forward, let's take a look at the headlines from the Boston area and New York media on this cool morning along the shores of Long Island Sound.
Yankees are losing at this game of catch [Boston Globe]
GOOSE: YANKS CAN COME BACK [NY Post]
Back in good standing: Sox relish opportunity for control of AL East [Boston Herald]
No sizzle for Sox series [NY Daily News]
A Different Feel With 8-Game Lead [Hartford Courant]
Little drama to this Red Sox-Yankees series [Newsday]
Series loses luster [Pro Jo]
Strong for the week [Boston Globe]
MAKE OR FAKE IN AL EAST [NY Post]
His own outlook: Henry examines dynamics of Sox-Yanks rivalry [Boston Herald]
Grand old gamer [Boston Globe]
As always stop by here first for your latest Red Sox news then head over to the Boston Globe, Boston Herald, Hartford Courant, Providence Journal, NY Post, NY Daily News and Newsday websites to see what else they are writing.