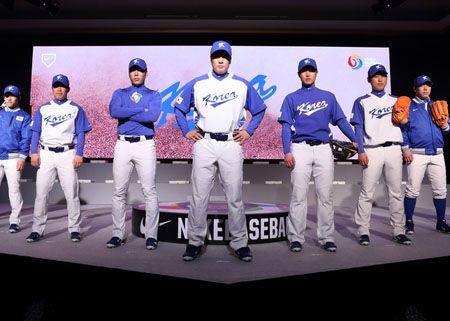 On Jan. 15, Korea's National Baseball Team officially unveiled its uniform for the 2013 World Baseball Classic that begins in March. Nike, the creator of the team's uniforms since 1998, developed the innovative design for speed, power and movement. After earning gold medals in 2008 in Beijing and 2010 in Guangzhou, the Korean National Team hopes to achieve a Baseball Grand Slam by winning the upcoming classic.
In a change from previous uniforms, the top's design features a V-neck instead of a button-down, which can help reduce potential injuries caused by rough sliding. Twill fabric combined with nylon and spandex helps maximize each player's full range of dynamic motion.
The new uniform also features a mesh fabric with antiperspirant and anti-odor technology as well as an ergonomic design to reduce chafing. With the use of innovative fabrics and minimization of seams, the uniform is 17 percent (top) and 51 percent (bottom) lighter than the previous uniform.
The uniforms emphasize the team's heritage with the use of the same cursive "Korea" that was used in 2008 in Beijing, as well as the traditional white and blue colors.
The uniform includes a white top and bottom for home games and a blue top and white bottom for away games, as well as a Nike Pro base layer worn under the top that features a second-skin fit and moisture-wicking technology to keep players cool and dry.
Innovative technology for speed, power and full range of motion
The new pullover constructed V-neck design features chafe-free flatlock seams.
The button-less and seamless design on the front can help minimize injuries during head-first sliding or diving catches.
Motion Relief Gusset technology applied under each arm maximizes range of motion while batting or throwing.
Seams on sides of top maximize full range of motion in the arms.
Double-layered ergonomic knees increase durability and can help minimize injuries.
Uniform design combines traditional and modern elements
White and blue are traditional colors representing Korea and the team.
Traditional Korean calligraphy is applied on the top in "Korea" and in the "K" on the baseball cap, continuing the heritage of the Korean National Team from Beijing 2008.
Mesh fabric and laser-cutting technology boost breathability
Nike Dri-FIT is featured in the Nike Pro base layer, which provides a second-skin fit and moisture-wicking technology to keep players cool and dry during competition.
Open mesh in the front of the top maximizes breathability.
Laser-cut mesh on the side of the top works to keep players cool and dry and eliminates distraction.
Mesh fabric on inner legs adds ventilation.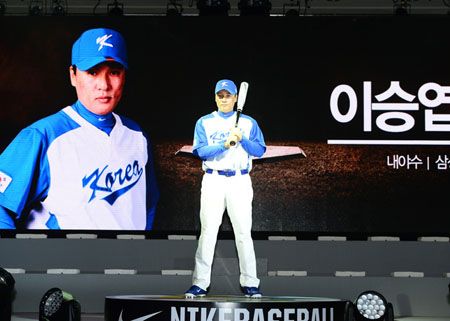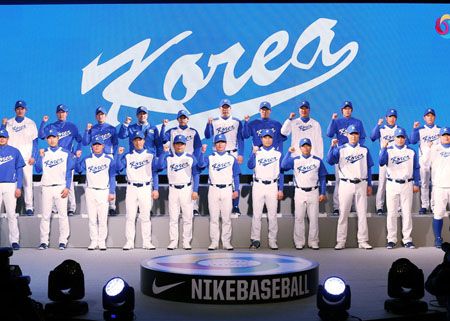 Follow Ian on Twitter @soxanddawgs. And be sure to like us on Facebook as well.
photo credit: nike, inc.