SPRINGFIELD, Mass. … The American Hockey League announced today the Eastern and Western Conference All-Star rosters for the 2011 AHL All-Star Classic presented by Capital BlueCross, to take place Jan. 30-31 at Giant Center in Hershey, Pa.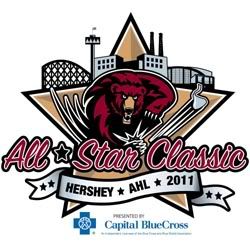 Each team comprises 23 players – 12 forwards, eight defensemen and three goaltenders. AHL fans determined the starting lineups via on-line balloting at theahl.com, while a committee of AHL coaches selected the remainder of the rosters. All 30 AHL teams are represented by at least one All-Star.
The 2011 squads include 31 first-time AHL All-Stars and 11 rookies. Among that group are AHL rookie scoring leader Rhett Rakhshani of the Bridgeport Sound Tigers, leading rookie goal-scorer Bobby Butler of the Binghamton Senators, and standout first-year goaltenders Jake Allen of the Peoria Rivermen and Martin Jones of the Manchester Monarchs. A total of 12 former first- and second-round draft picks were also named All-Stars, including Syracuse's Kyle Palmieri, Springfield's John Moore and Grand Rapids' Brendan Smith.
Players returning to the AHL All-Star Classic include AHL leading scorer Corey Locke of Binghamton, who is the all-time leading scorer in AHL All-Star history with nine points in four previous appearances. Wilkes-Barre/Scranton's Dustin Jeffrey, Hershey's Andrew Gordon, Charlotte's Bryan Rodney, Manchester's Viatcheslav Voynov, Manitoba's Sergei Shirokov and Houston's Maxim Noreau are all back in the midseason classic after making their first appearance in 2010.
Hershey Bears head coach Mark French and assistant coach Troy Mann will guide the Eastern Conference All-Stars by virtue of the Bears' 2010 Calder Cup championship. Rookie head coaches John Hynes of the Wilkes-Barre/Scranton Penguins and Jared Bednar of the Peoria Rivermen are set to co-coach the Western Conference entry after their teams finished play this past Sunday with the best records in their respective conferences.
Tickets for the 2011 AHL All-Star Classic presented by Capital BlueCross – which include admission to both the 2011 AHL All-Star Skills Competition at 3 p.m. on Sunday, January 30, and the 2011 AHL All-Star Game at 7 p.m. on Monday, January 31 – are nearly sold out. Tickets remain available for the 2011 AHL Hall of Fame Induction & Awards Ceremony (January 31, 11 a.m.) and the Post-Skills Party (January 30, 6 p.m.). Contact the Giant Center box office at (717) 534-3911 for information.
The 2011 AHL All-Star Classic presented by Capital BlueCross in Hershey will feature the top young talent in the American Hockey League, competing in the AHL All-Star Skills Competition and the AHL All-Star Game, a two-day event to be televised nationally in the United States and Canada. Of the 528 players to take part in the AHL All-Star Classic since 1995, more than 93 percent have competed in the National Hockey League, including Patrice Bergeron, Dan Boyle, Daniel Briere, Dustin Byfuglien, Brian Campbell, Zdeno Chara, Eric Fehr, Miikka Kiprusoff, Kari Lehtonen, Ryan Miller, Zach Parise, Bobby Ryan, Martin St. Louis, Jason Spezza, Eric Staal and Tomas Vokoun.
To see the complete rosters for the game, click on the read more button below.
2011 Eastern Conference AHL All-Star Team
Forwards
Luke Adam, Portland
Matt Anderson, Albany
Bobby Butler, Binghamton
x-Jonathan Cheechoo, Worcester
x-Andrew Gordon, Hershey
Johan Harju, Norfolk
Dustin Jeffrey, W-B/Scranton
x-Corey Locke, Binghamton
Kyle Palmieri, Syracuse
Rhett Rakhshani, Bridgeport
Jerome Samson, Charlotte
Jeremy Williams, Connecticut
Defensemen
Erik Gustafsson, Adirondack
Steven Kampfer, Providence
John Moore, Springfield
x-Lawrence Nycholat, Hershey
Bryan Rodney, Charlotte
Drew Schiestel, Portland
Viatcheslav Voynov, Manchester
x-Mark Wotton, Bridgeport ("C")
Goaltenders
Braden Holtby, Hershey
Martin Jones, Manchester
x-Brad Thiessen, W-B/Scranton
x-starters

Head Coach: Mark French, Hershey
Assistant Coach: Troy Mann, Hershey
Athletic Trainer: Dan Stuck, Hershey
Equipment Manager: Justin Kullman, Hershey
2011 Western Conference AHL All-Star Team
Forwards
Joey Crabb, Toronto
x-David Desharnais, Hamilton
x-Alexandre Giroux, Oklahoma City ("C")
Linus Klasen, Milwaukee
Spencer Machacek, Chicago
Brett MacLean, San Antonio
x-Travis Morin, Texas
Linus Omark, Oklahoma City
Max Pacioretty, Hamilton
Michal Repik, Rochester
Sergei Shirokov, Manitoba
Ryan Stoa, Lake Erie
Defensemen
T.J. Brodie, Abbotsford
Brian Connelly, Rockford
Maxim Noreau, Houston
Nathan Oystrick, Peoria
x-Paul Postma, Chicago
Brendan Smith, Grand Rapids
x-Garrett Stafford, San Antonio
Clay Wilson, Rochester
Goaltenders
x-Jake Allen, Peoria
Mark Dekanich, Milwaukee
Curtis Sanford, Hamilton
x-starters
Co-Coach: John Hynes, Wilkes-Barre/Scranton
Co-Coach: Jared Bednar, Peoria
Athletic Trainer: Kent Weisbeck, Rochester
Equipment Manager: Ralph Calvanese, Springfield
2011 Eastern Conference AHL All-Star Team Starters

Brad Thiessen , Goaltender (Wilkes-Barre/Scranton Penguins):
Second-year pro Brad Thiessen began the year on an eight-game winning streak and hasn't looked back, collecting a league-leading 17 victories (17-3-0) in 21 appearances for the AHL-best Penguins. A native of Aldergrove, B.C., Thiessen has surrendered two goals or fewer on 15 occasions this year, including a pair of shutouts. The 24-year-old ranks among the league's top ten in both goals-against average (2.07) and save percentage (.921).
Lawrence Nycholat , Defense (Hershey Bears):
Making his fourth AHL All-Star appearance and third as a starter, Lawrence Nycholat leads all Hershey defensemen with 27 points (5-22-27) in 30 games this season. Nycholat's 27 points are good for a share of fourth among AHL rearguards, and his plus-15 mark is tied for third-best. A 30-year-old Calgary native, Nycholat won the 2006 Calder Cup during his first stint with the Bears and also appeared in the 2005, 2006 and 2008 AHL All-Star Classics.
Mark Wotton, Defense (Bridgeport Sound Tigers):
A veteran of 863 AHL contests – fifth all-time among AHL defensemen – Mark Wotton has been captain of his team in 11 of his 14 American Hockey League seasons, including the last five in Bridgeport. Captaining the Eastern Conference in his first AHL All-Star appearance since 1998, Wotton has contributed three goals and four assists in 38 games for the Sound Tigers this year. The Foxwarren, Man., native was a member of Hershey's 2006 Calder Cup title team.
Jonathan Cheechoo, Forward (Worcester Sharks):
Former NHL goal-scoring champion Jonathan Cheechoo is enjoying a career revival in his original organization, putting up team-high numbers in goals (13), assists (22) and points (35) in 34 games for Worcester and head coach Roy Sommer, who was also Cheechoo's first pro coach when he broke into the AHL in 2000. Cheechoo, who scored 56 goals for San Jose in 2005-06 and topped the 20-goal mark in three other NHL seasons, appeared in the AHL All-Star Classic in 2001 and the NHL All-Star Game in 2007.
Andrew Gordon, Forward (Hershey Bears):
Andrew Gordon is following up a career-best showing last season with another stellar effort for Hershey in 2010-11. The fourth-year pro paces the Bears in both goals (18) and points (36) in 31 games and has also notched his first two career NHL points (1-1-2) in eight contests with the parent Washington Capitals. Gordon, 25, began the season on an eight-game scoring streak and has netted 11 of his 18 goals on a Bears power play which ranks fifth in the AHL (20.8 percent). This is the Halifax, N.S. native's second straight AHL All-Star trip.
Corey Locke, Forward (Binghamton Senators):
One of the AHL's most potent offensive threats in recent years, Corey Locke currently leads the league in both assists (38) and points (51) through 37 games of his first season with Binghamton. The 26-year-old from Toronto put together a 12-game scoring streak from Oct. 23 to Nov. 20 and has already recorded 15 multiple-point performances. A 2007 Calder Cup champion in Hamilton, Locke is making his fourth straight AHL All-Star appearance and fifth overall, and he's well on his way to a fifth consecutive 20-goal season.

2011 Western Conference AHL All-Star Team Starters

Jake Allen, Goaltender (Peoria Rivermen):
Rookie goaltender Jake Allen has burst onto the professional scene to the tune of 15 wins in his first 18 games for Peoria (15-3-0) this season. A second-round draft pick (No. 34) by the St. Louis Blues in 2008, the 20-year-old Allen earned four shutouts in eight appearances to begin the year and boasts a league-leading five whitewashes overall. The Fredericton, N.B., native also paces the AHL in save percentage (.945) while ranking second in goals-against average (1.76) for the Western Conference-leading Rivermen.
Paul Postma, Defense (Chicago Wolves):
Drafted by the Atlanta Thrashers in 2007, Paul Postma has registered 27 points (7-20-27) in 42 games for the Wolves, already just two points shy of the total he put up as a rookie in 2009-10. The 21-year-old Postma has fired more shots on goal than any other AHL defensemen (118), and his 27 points put him in a tie for fourth among AHL rearguards. A native of Red Deer, Alta., Postma is one of three players to appear in all 42 of Chicago's games thus far.
Garrett Stafford, Defense (San Antonio Rampage):
Garrett Stafford is on pace for the most productive season of his eight-year AHL career, currently leading all league defensemen with 30 points (9-21-30) in 34 games for the revitalized San Antonio Rampage. An AHL All-Star as a rookie in 2004 – when he posted a career-best 46 points – and a Calder Cup finalist with Texas last spring, Stafford has collected 14 of his 21 assists on the power play, helping the Rampage achieve the league's top-rated unit. The Los Angeles native also has two games played with Phoenix this season.
David Desharnais, Forward (Hamilton Bulldogs):
David Desharnais began 2010-11 on a 13-game scoring streak for Hamilton – still the AHL's longest run of the season – and had put up a league-high 45 points (10-35-45) in 35 games prior to his Dec. 31 recall to Montreal. The 24-year-old Desharnais tied for fourth in the league last year with 78 points (27-51-78), his second 20-goal effort in as many AHL seasons. A native of Quebec City, Desharnais is currently fourth in the AHL with 21 points on the power play.
Alexandre Giroux, Forward (Oklahoma City Barons):
The Western Conference All-Star captain, Alexandre Giroux has earned his fourth career All-Star selection and his third consecutive vote to the starting lineup. The AHL's two-time defending goal-scoring champion won back-to-back Calder Cup championships with Hershey in 2009 and 2010 and is now Oklahoma City's leading scorer with 17-25-42 in 40 contests. The Quebec City native leads all active players with 325 career goals – tied for 11th place all-time – and earlier this year he became the 44th player in AHL history to reach 600 career points.
Travis Morin, Forward (Texas Stars):
For the second consecutive season, center Travis Morin has established himself as one of the Texas Stars' most consistent point-producers. The native of Brooklyn Park, Minn., finished second on the Western Conference champion Stars with 52 points last year, and he currently leads Texas in goals (13), assists (17) and points (30) through 38 games in 2010-11. Morin, whose plus-10 rating is tops among all Texas forwards, has appeared in each of the Stars' 142 regular-season and playoff games since the start of the 2009-10 season.